Jun 1, 2017
In the news: Teammate Cara Adams' trailblazing role at the 101st Running of Indianapolis 500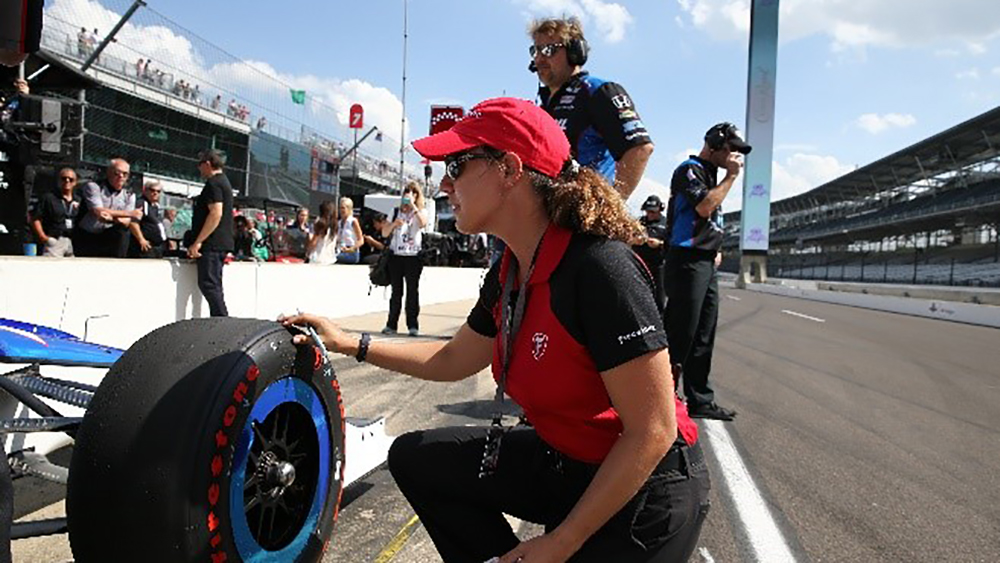 ​If you were following the coverage of the 101st Running of the Indianapolis 500, you know there were some great storylines leading up to and during the race. And one of them was Bridgestone's very own Cara Adams, Chief Engineer for Bridgestone Americas Motorsports and Firestone Racing.
Cara's pioneering role as the only female Chief Engineer in INDYCAR made national news leading up to the Indy 500, with various outlets covering this important milestone for the sport. Here's a spotlight on some of our favorite articles featuring Cara.
Fortune: "Meet Cara Adams, the Only Female Chief Engineer at the Indy 500"
Fortune.com interviewed Cara before the Indy 500 and the feature went live on its "Most Powerful Women" page on Thursday, May 25.
Reporter Madeline Farber highlighted Cara's career trajectory, her love of math and science, her passion for motorsports and the significance of her role as Chief Engineer.
As Farber writes, "In a male-dominated sport, Adams stands out: She's the only female chief engineer in one of the fastest racing series in the U.S., and she's also just one of four female engineers in the IndyCar Series overall."
Fortune.com, which is one of the leading business news websites in the U.S., is read by more than 7 million people per month.
USA Today: "Science inspired female chief engineer to climb through the auto racing ranks"
Cara's story also was featured as part of USA Today's countdown to the Indy 500. She was interviewed by reporter Brody Miller of the Indianapolis Star, and the article – which also ran in the Indy Star's race day special section – was picked by USA Today Friday, May 26.
The story highlights Cara's career, and also that of Lisa Boggs, Director of Bridgestone Americas Motorsports. As Miller writes, "both women could be considered trailblazers in a male-dominated field, but… to them, being a different gender was a non-issue. They are the best people for the jobs."
Cara and Lisa both discuss the mentors they've had over the course of their careers, and how proud they are to be role models for young women today.
USA Today.com is one of the most popular news websites in the country, with more than 36 million readers per month.
ESPN: "Julie Foudy Catches Up with the Women of Indy"
And last, but definitely not least, Cara was featured on ESPN SportsCenter on race day morning as part of a terrific segment about the "Women of Indy."
She was featured alongside Pippa Mann, the only female driver in Sunday's Indy 500 field, and Sarah Fisher, a former driver and team owner in INDYCAR. It was hosted by Julie Foudy, a two-time Olympic gold medalist and former captain of the U.S. Women's National Team.
The fun segment included a roundtable discussion on how each is making an impact at this year's Indianapolis 500 race, and a very competitive Go-Kart competition.
The segment also is live on ESPN.com, one of the most-read sports news sites in the country.