Sep 18, 2018 NASHVILLE, Tenn.
Bridgestone's Metalpha Facility Welcomed into TDEC's Green Star Partnership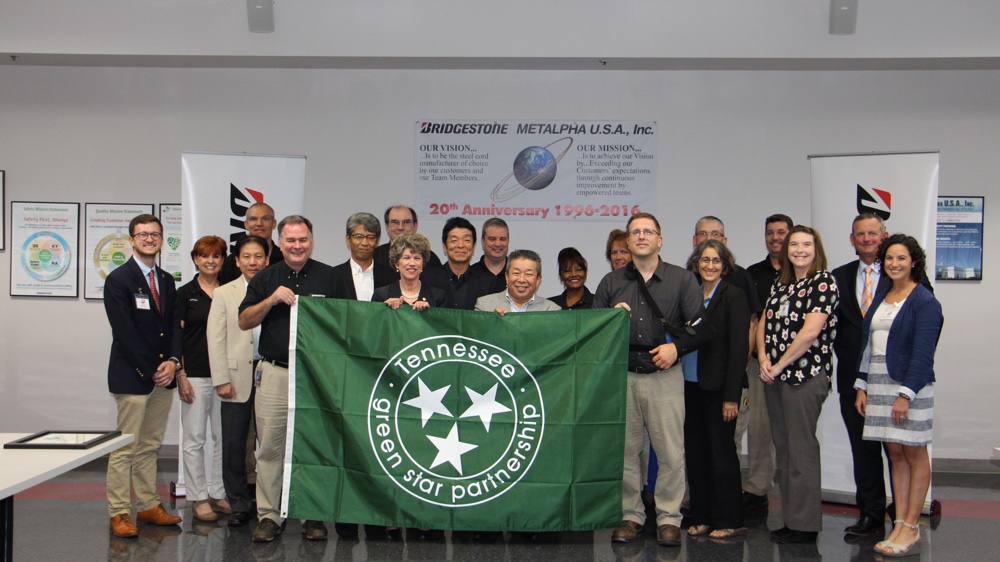 Pictured L-R: Caleb Powell, TDEC; Diane Todd, Metalpha; Kazuhiro Yanagisawa, Bridgestone Japan; Paul Moran, Metalpha; Vance Merritt, Metalpha; Tori Torisu, Metalpha; Reggie Newton, Metalpha; Mayor Kim McMillan, City of Clarksville; Toru Tsunakawa, Metalpha; Jay Martin, Metalpha; Naoshi Yoda, Bridgestone Japan; Princess Lagan, Metalpha; Elaine Johnson, Metalpha; Chad Crocker, Metalpha; Phillip Sugg, Metalpha; Diane Scher, Bridgestone Americas; Chad Pfeffer, Metalpha; Carlye Sommers, Clarksville-Montgomery County; Mayor Jim Durrett, Montgomery County; Kendra Abkowitz, TDEC.
Clarksville-based Metalpha is the latest inductee in the Tennessee Department of Environment and Conservation's (TDEC) Green Star Partnership for exemplary environmental actions in manufacturing.
Bridgestone Metalpha USA (BMU) is a radial tire steel cord-manufacturing affiliate which has been operating in Clarksville for the past 22 years.
Major environmental achievements at BMU include a reduction of energy use of more than 1 million kWh by systematically updating light bulbs in the production area with energy-efficient LEDs and upgrading an industrial chiller unit.
"Staff at BMU have demonstrated their initiative to conserve energy throughout their facility in ways that reduce negative impacts to the environment," said Dr. Kendra Abkowitz Brooks, assistant commissioner of TDEC's Office of Policy and Sustainable Practices. "We are pleased to welcome them as the latest members of TDEC's Green Star Partnership."
In 2017, BMU also implemented a program to automatically shut down production equipment once a certain threshold is met in order to relieve strain on the electrical grid during peak times.