Oct 24, 2018 SAN JOSÉ, Costa Rica
Bridgestone Ranked as #1 Company in Corporate Reputation in the Industrial Sector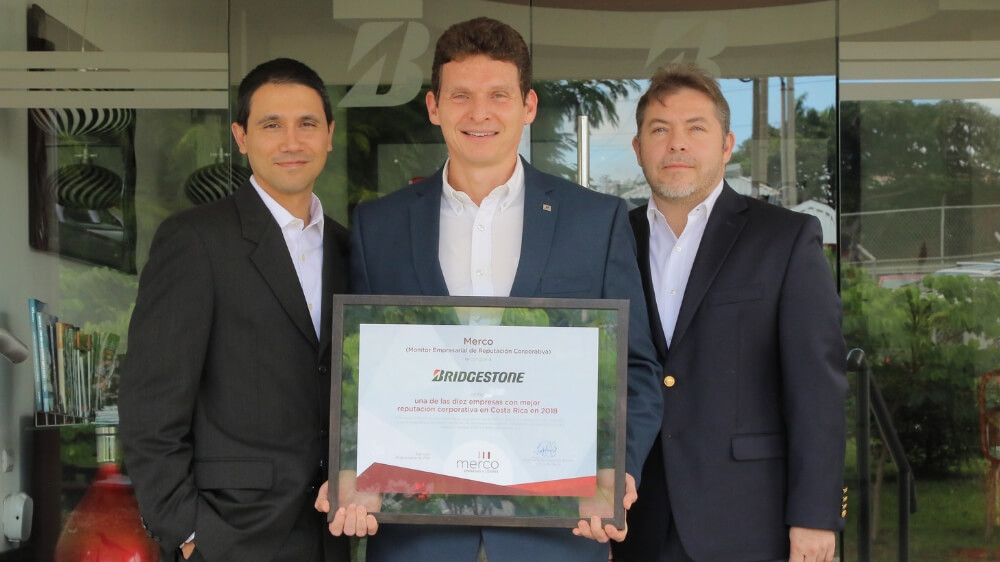 The Spanish company Monitor Empresarial de Reputación Corporativa (MERCO) presented the second Study of Companies and Leaders of Costa Rica 2018, in which Bridgestone was highlighted as the number one company in the industrial sector and number 10 in the general ranking of companies, according to its corporate reputation
MERCO has 18 years of presence in Spain and most Latin America countries. It has the prestige of being the first monitor whose process and results are audited by KPMG. Its methodology incorporates the opinions of all stakeholders on the reputation of the company and its leaders
Through this study, the objective of MERCO is to measure the reputation and recognize the excellence of Costa Rican companies, as well as to bet on having stronger economic and commercial companies that take care of talent and that are increasingly ethical, committed and innovative, to become a prosperous country.
Bridgestone's search to become a sustainable business, the care of its employees, talent development, product innovation, good environmental, social and economic practices, the efficiency in the production process, as well as its global commitment to Social Responsibility Our Way to Serve, were determining factors to obtain this position in MERCO's ranking.
"At Bridgestone Costa Rica, we believe that the success of the business and the sustainability of our operations are based on teamwork with our shareholders; For this reason, we are pleased that they have shown their trust in us, through studies such as the one developed by MERCO," said Erick Herrera, Country Manager of Bridgestone Costa Rica.
The Japanese company has been operating in the region for more than 50 years and is currently the only tire manufacturing plant in Central America and the Caribbean, with a production capacity of 11,000 tires per day and employing around 1,000 employees. It serves 21 markets in the region, offering tires for motorcycles, SUVs, trucks and agricultural machinery. It also offers retreading services for trucks and has a line of golf products.
The organization has more than a dozen certifications that support aspects such as quality and product safety, responsible environmental performance, occupational risk prevention and management of social responsibility.
Bridgestone continues today with the development of different strategies in production, marketing and relationship with stakeholders, to strengthen its presence in Central America and the Caribbean.