Sep 6, 2018 MEXICO CITY
Bridgestone Mexico is Granted With the 2017 Masters of Quality Supplier Award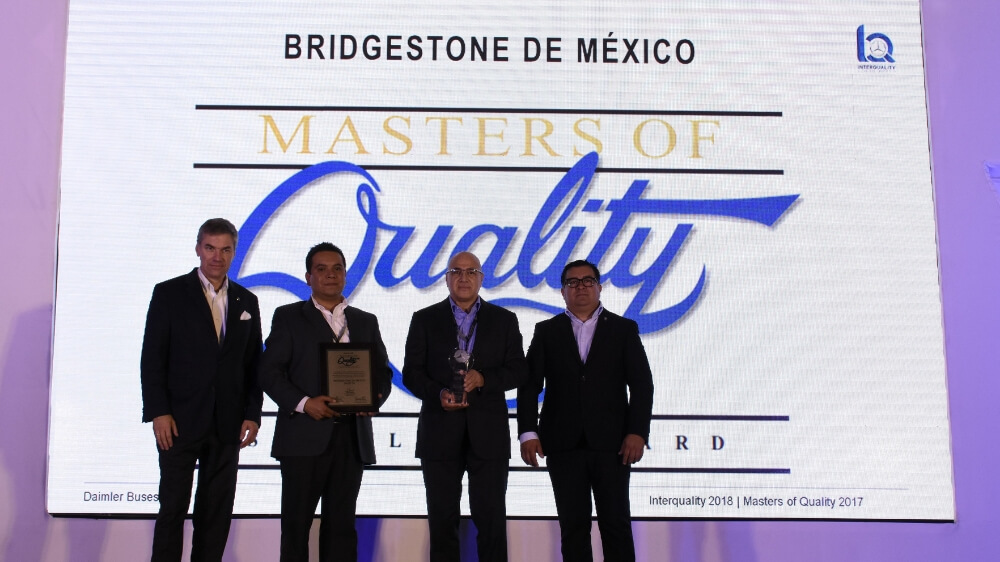 For second consecutive year, the company was recognized by Daimler Buses México as one of the best suppliers for its excellence in product supply.
Bridgestone, world leader in tire manufacture and other diversified products, was granted for second year in a row with the Masters of Quality Supplier Award by Daimler Busses Mexico.
This award recognizes suppliers that continuously exceed quality and service requirements in parts and components, which were carefully evaluated with the highest quality, delivery, technology and performance standards.
The ceremony was presided over by Jan Hegner, CEO of Daimler Busses Mexico, alongside the executive team of the company, Víctor Segura, Quality Director; Roberto Sotelo; Engineering Manager, Raúl García, Operations Manager and Sergio Hernández, Purchasing Manager, who stressed the importance of the awarded suppliers to ensure Daimler success and growth.
"For Bridgestone, quality is an essential part of its corporate philosophy. Receiving the award is a source of pride and inspires us to continue working to achieve the best quality and service that our business partners need", said Jorge Aguayo, Original Equipment Sales Director of Bridgestone Latin-American North as he received the award.
The criteria for choosing the winners included the evaluation of more than 100 suppliers from different sectors, in order to identify those with the highest quality products and services during 2017.
"On behalf of the Bridgestone team, I would like to thank Daimler Busses Mexico for trusting us during these three years, and we reiterate our commitment to serve society, our customers and partners with superior quality," said Aguayo.
Thanks to the quality, reliability and versatility of its products, Bridgestone Mexico has established itself as a leading automotive industry and a strategic partner for several assembly plants that completely rely on the company as an Original Equipment supplier.