Aug 8, 2018 GUATEMALA
Bridgestone and Llanresa Distributor Built New B-Happy Eco-Playground in Guatemala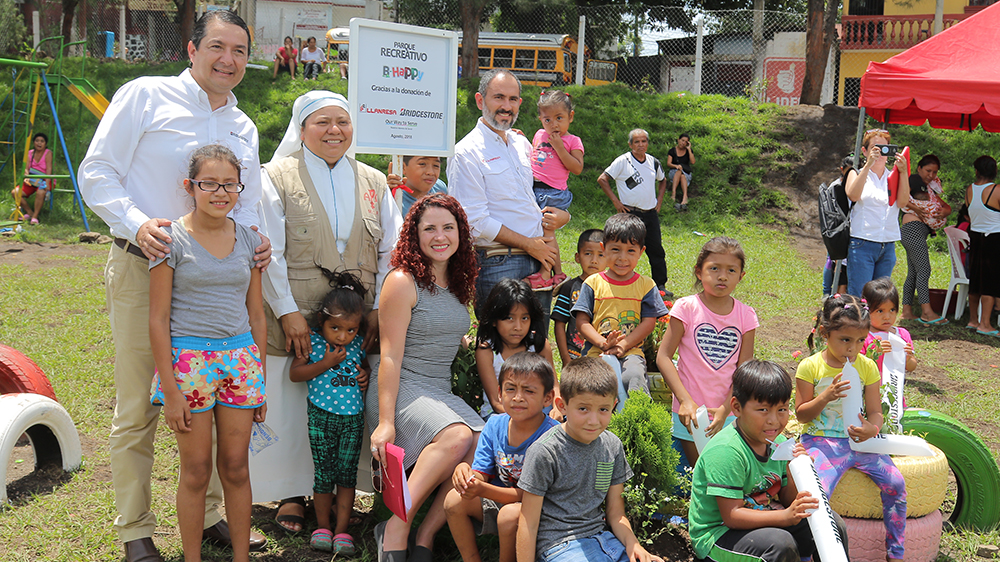 The activity benefits families affected by the eruption of the Volcano of Fire last June.
Approximately 120 children currently living in the Papa Francisco Shelter in Escuintla, can enjoy the B-Happy eco-playground built in partnership by Bridgestone and Llanresa, its distributor in the country.
The initiative aims to provide a place for leisure for families affected by the volcano, like that of Marta Alicia Coc Tezen, who lived in El Rodeo with her husband and five children prior to the tragedy. She is grateful for the new park, which will allow her children to enjoy an outdoor space to play.
The opening of the eco-playground took place on August 8, at the facilities of the Papa Francisco Shelter, Finca la Industria in Escuintla, presided over by Carlos Salas, Consumer Category Manager of Bridgestone Central America and the Caribbean; and Fredy Yunes, General Manager of Llanresa, as well as members of the community.
"For Llanresa, it is a source of pride to collaborate in this difficult stage that the victims go through, with safe recreational spaces that help the children to develop their social, emotional and physical aptitudes, because it is through the game that they relate to the world that surrounds them. Through the construction of the park, we not only support children but also contribute in the protection of the environment," said Fredy Yunez, General Manager of Llanresa.
Bridgestone eco-playgrounds consist of the construction of recreational areas and game modules with scrap tires, in order to promote the reuse of waste for the benefit of communities in a creative and innovative way.
"The B-Happy eco-playgrounds are one of Bridgestone's flagship projects in Central America and the Caribbean, to provide a positive contribution to the communities and care of the environment. Thanks to the construction of this type of parks, we have managed to reuse and dispose favorably around 2,600 waste tires," said Carlos Salas, Category Consumer Manager of Bridgestone Central America and Caribbean.
In Guatemala, Bridgestone has built six B-Happy parks, five of them with Llanresa. Since the beginning of this project, in 2012, a total of 37 recreational areas have been built in Costa Rica, the Dominican Republic, El Salvador, Guatemala, Nicaragua and Panama, benefiting approximately 48,000 children.
In addition to its contribution as a recreational game, B-Happy parks aim to raise awareness of the need to reuse tires and to collaborate in the mitigation of mosquito breeding sites of Dengue, Zika and Chikungunya in the Central America and the Caribbean region.
The construction of these parks is one of the initiatives developed by Bridgestone within the "People" priority area of its global commitment to corporate social responsibility, Our Way to Serve.