May 17, 2017 INDIANAPOLIS, Ind.
Firestone Industrial Products Plant Receives Fourth Kentucky Governor's Award for Safety and Health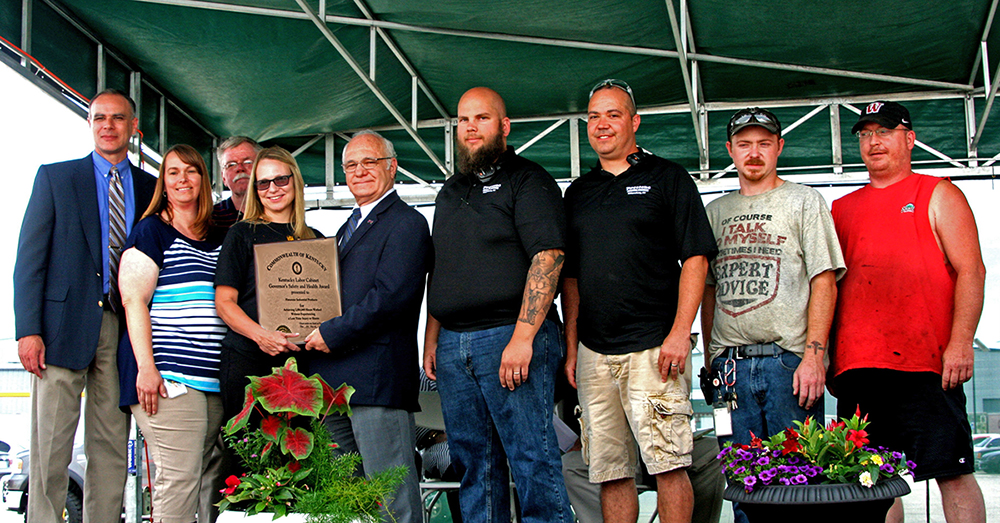 Williamsburg, Ky., plant recognized for second consecutive year
Firestone Industrial Products, (Firestone) a world-class engineering and technology company and the leading global manufacturer of air springs and related products, today announced that the company's Williamsburg, Kentucky, manufacturing facility has received its fourth Kentucky Governor's Safety and Health award for its commitment to workplace safety. Firestone Industrial Products is part of Bridgestone Americas, the largest subsidiary of Bridgestone Corporation, the world's largest tire and rubber company.
The Kentucky Governor's Award for Safety and Health recognizes outstanding safety and health performance, as measured by number of hours worked without experiencing a lost-time injury or illness. The award was presented during a celebration of the Williamsburg plant's achievement of a significant safety milestone – reaching two million man hours without a lost-time accident. In attendance were state and local officials, including Kentucky Labor Cabinet Deputy Secretary Michael Nemes, who presented the award to plant leadership; State Representative Regina Bunch; Whitley County Judge Executive Pat White, Jr.; and Williamsburg Mayor Roddy Harrison; along with Firestone Director of Global Operations, Brad Marks; and Plant Manager Michael Weir.
"The Governor's Award for Safety and Health reflects the hard work and commitment of all of our teammates, who embrace safety as a core value and work every day to ensure a safe workplace," said Marks. "Achieving this recognition for a fourth time, and reaching the milestone of two million man hours without a lost-time accident, is a testament to the Safety First, Always mission and culture that are present at our Williamsburg manufacturing facility and across our global organization."
The Firestone Williamsburg plant, which manufactures Air Springs for the heavy- duty truck, automotive, and agricultural market, was recognized with the Governor's Award for Safety and Health in 2016 and was approved to participate in the Kentucky
Labor Cabinet, Occupational Safety and Health Partnership, Safety and Health Achievement Recognition Program (SHARP) recognizing the commitment of employers to exceed the requirements of the Occupational Safety and Health standards in 2014.
Learn more about Firestone Industrial Products at www.fsip.com.