Jun 1, 2017 CUERNAVACA, Morelos, Mexico
CECyTE Morelos and Bridgestone Mexico Trailblazing the Mexican Model of Dual Education (MMFD)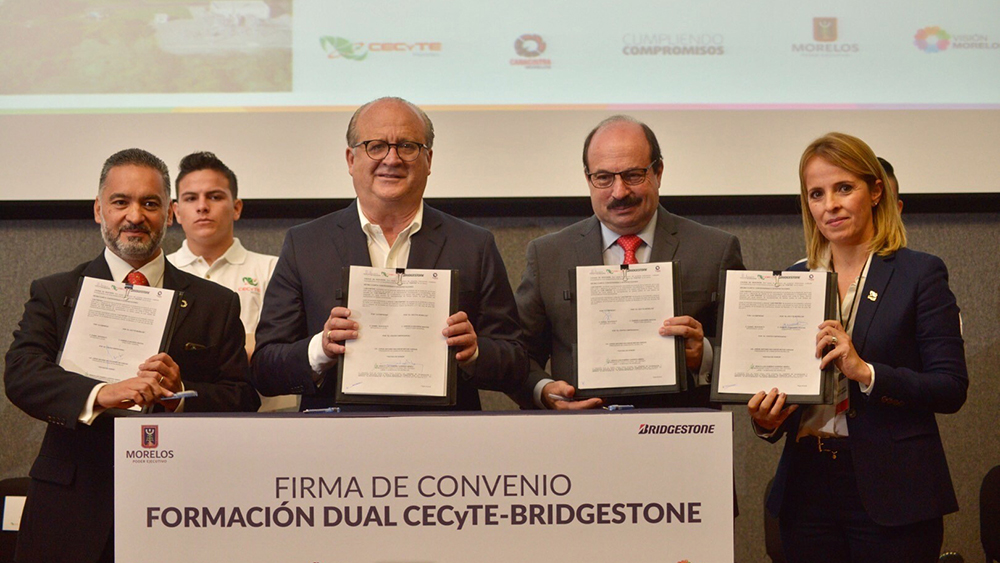 Nine students from the College of Scientific and Technological Studies of the State of Morelos (CECyTE) have been incorporated to the Mexican Model of Dual Education (MMFD) with the support of Bridgestone, a leading company in the tire manufacturing industry. The incorporation will be under the system of mixed company-school studies.
Thirty-one students of the Industrial Maintenance Technician program at the Emiliano Zapata School were invited to take part in an assessment process, involving knowledge tests, evaluation of competencies and psychological assessment. Twenty of these students completed the second round of tests, which finally resulted in nine shortlisted students.
Morelos's CECyTE is the first educational subsystem in implementing the MMFD, a model that has been designed and impulse in Mexico by the Secretary of Public Education (SEP), in response to the challenges faced by recent graduates from Higher Technological schools, who lack work experience or come across an overcrowded job market, which, in turn, translates into high unemployment and underemployment rates. The courses following this dual model include: Industrial Maintenance Technician, Management Process Technician and Programming Technician.
Through its Business School, Bridgestone Mexico has become the first tire company in the country to develop and implement innovative educational programs and new learning experiences, providing an official certificate, like the MMFD, and turning education into a competitive edge for students that are part of the program.
Selected students will continue their education for a whole year, with theoretical-practical activities, as well as personalized mentoring, at the Bridgestone Cuernavaca location, in Morelos. They will also take on real-life responsibilities and projects in Maintenance.
MMFD for CECyTEs was launched in 2014. To date, 16 states have joined the project with the commitment to help students apply the "Learn By Doing" principle in the company. After completing their programs, students will receive a valid certification, a professional identification, as well as the external Work Competencies Certification delivered by the National Board of Normalization and Certification of Work Competencies (CONOCER) for the Dual Education Model.
The Dual Model offers participants the chance to obtain a scholarship awarded by the Sub Secretary of Higher Education, with a value of 2,000 pesos for men, and 2,600 pesos for women.
Parents also play an active role accompanying their children in the process, thus contributing to the program's success.
The agreement on the MMFD program was signed this morning at Bridgestone headquarters, in Cuernavaca, in the presence of students and parents. Presiding the event were Dr. Daniel Benvenuti, Senior Advisor for Bridgestone Latin America; Public Accountant Gabriela Navarro Macías, General Director at CECyTE Morelos; Ramón Castillo, MS, CECyTEs Dual Training Model Manager; Beatriz Ramírez Velázquez, BS, Secretary of Education for the State of Morelos; Jorge Antonio Salvador Mátar Vargas, BS, President of CANACINTRA Morelos; Pablo Jimenez, Engineer, Manufacturing Director, Bridgestone; and, as honorary witness, Graco Ramírez, Governor of the State of Morelos