Apr 5, 2017 NASHVILLE, Tenn.
Bridgestone Recognized for Achievements in Worker Safety & Health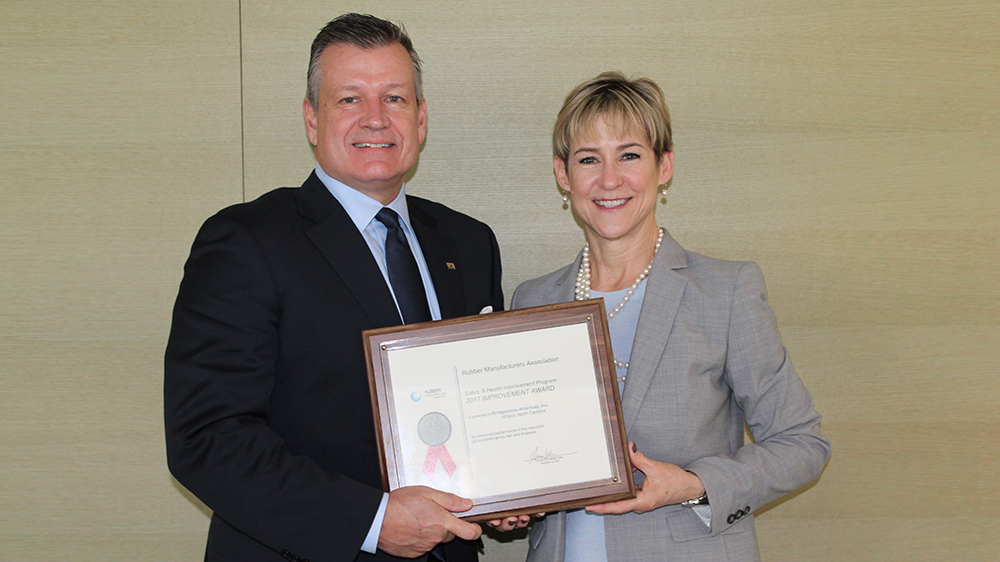 Gordon Knapp, CEO and president, Bridgestone Americas, Inc. with Anne Forristall Luke, RMA president and CEO
Four Bridgestone Americas plants receive awards at RMA Board meeting
Bridgestone Americas (Bridgestone) today announced that four of its facilities have been recognized for excellence and improvements in worker health and safety by the Rubber Manufacturers Association's (RMA) Safety and Health Improvement Program (SHIP). Bridgestone received four Improvement Awards during the RMA's Board meeting on April 4.
Gordon Knapp, CEO and President of Bridgestone Americas, accepted the awards on behalf of Bridgestone.
Created in 1981, the SHIP awards encourage and reward RMA members' commitment to worker health and safety. Two categories of awards are presented to companies that demonstrate workplace safety excellence and improvements, which are measured by the incidence rate for lost workday cases. The "Excellence" category is for facilities that achieve a Days Away Restricted Transfer (DART) rate that is 75 percent better than the average achieved by plants that provided data to RMA. The "Improvement" award is for plants that achieve a DART rate that is both 10 percent better than its rate in the previous year and is the same or better than the RMA average incidence rate.
The following Bridgestone plants were recognized:
Improvement Awards
Bridgestone Americas Tire Operations Off-The-Road Tire Plant, Bloomington, Illinois
Bridgestone Bandag Plant, Long Beach, California
Bridgestone Americas Tire Operations Commercial Truck and Bus Radial Plant, Warren County, Tennessee
Bridgestone Americas Tire Operations Passenger Tire Plant, Wilson, North Carolina
Forty-seven plants from RMA member companies supplied data for the annual survey to be eligible for awards. The data supplied to RMA is identical to information provided to the federal Bureau of Labor Statistics, which publishes annual injury and illness information on all industries.
For more information about the company's commitment to the health and safety of employees, visit BridgestoneAmericas.com.