Apr 3, 2017 MEXICO CITY, Mexico
Bridgestone Protects Drivers Against Road Hazards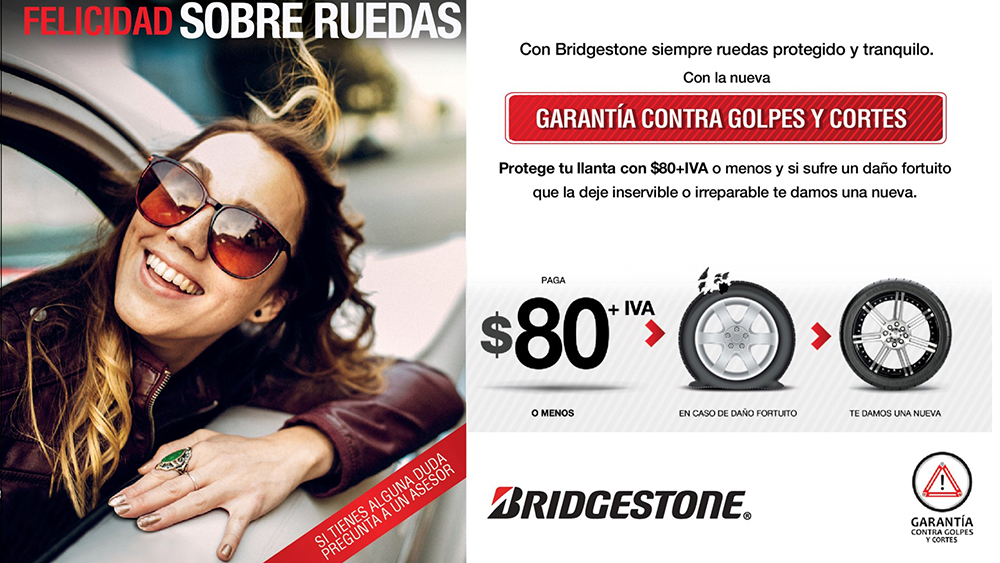 Through this new guarantee, the company offers coverage for one year or six months against accidental damages to cars and vans with Bridgestone, Firestone, Fuzion and Seiberling tires
Unexpected situations happen at any time and it is important for drivers to have the tools they need to enjoy a safe and pleasant journey. Bridgestone, the leading company in tire and diversified products manufacturing, launches its Road Hazard Guarantee.
This guarantee protects the Bridgestone, Firestone, Fuzion and Seiberling tires against unexpected situation of hits or cuts that permanently damage the tire: bumps against the edge of the sidewalk, punctures with sharp objects like nails, screws or glasses, bump impacts or imbalances, etc.
The Road Hazard Guarantee is valid only within the first 25 percent of the tread life (based on the original depth of each tire) and during the first year of use from the date of purchase for The Bridgestone and Firestone brands; or six months for Fuzion and Seiberling.
In addition to the benefits of this guarantee, the company is working training sales and adjusters network to reinforce knowledge of the handling of incidental damages and the correct application of this product, in order to offer in the whole country a service with superior quality.