May 11, 2017 SAN JOSE, Costa Rica
Bridgestone Costa Rica Celebrates 50 Years of Business Leadership and Social Investment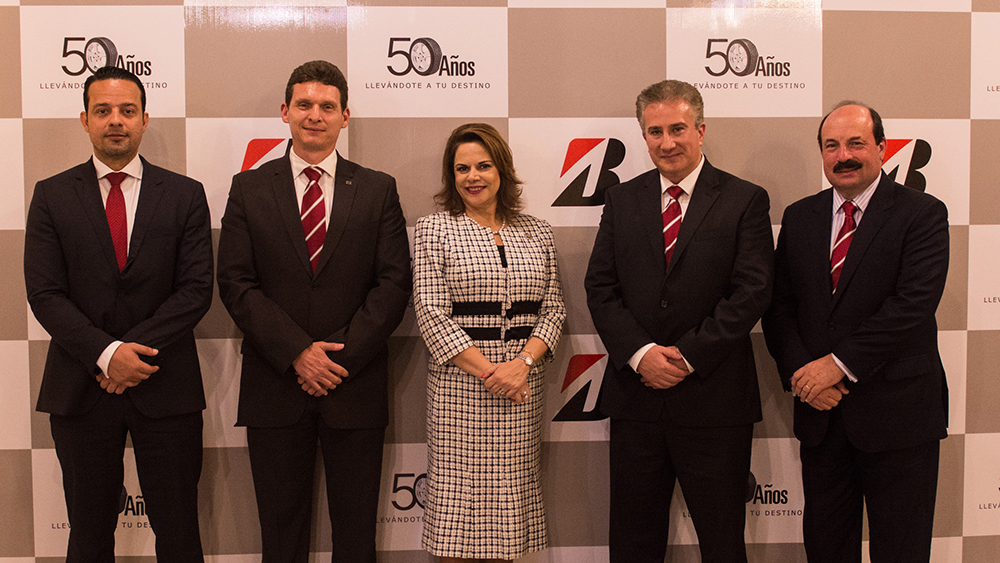 Looking ahead, our commitment is to strengthen operations in this country in order to remain a leading company and contribute to the economic and social development of Costa Ricans.

Alfonso Zendejas, President of Bridgestone Latin America North
67 million tires have been produced in Costa Rica since the beginning of its operations. The company generates over one thousand direct jobs and around ten thousand indirect jobs.
Bridgestone, the largest tire company in the world, celebrates its 50th anniversary of operations in Costa Rica serving the Costa Rican society with Superior Quality - not only in terms of products, services, and technology, but also as an exemplary corporate citizen.
To celebrate the achievements of these 50 years, Bridgestone held a Gala ceremony and concert with the Costa Rican Philharmonic Orchestra at the National Theater on May 11th. The event was attended by Ana Helena Chacón, Vice President of Costa Rica; Jhon Fonseca, Vice Minister of Foreign Trade; Alfonso Zendejas, President of Bridgestone Latin America North; Daniel Benvenuti, Senior Consultant at Bridgestone Latin America; and Erick Herrera, Country Manager at Bridgestone Costa Rica, among other guests.
Bridgestone Costa Rica was one of the first multinational companies established in the country, and began its operations in 1967, under the umbrella of the Firestone Corporation, with the goal of producing and supplying tires to the Central American market from Costa Rica. The Belen plant currently employs over a thousand teammates. In addition, Bridgestone's operations in the area foster over 10,000 indirect jobs.
"Costa Rica is a core market for Bridgestone's operation in Central America and the Caribbean due to its socioeconomic environment, its level of specialization, and its strategic location. This set of elements was key in the company's decision to establish in the country the only tire plant in the region. Bridgestone produces 12,000 tires daily, and since it started operations in our country, it has produced about 67 million tires", said Erick Herrera, Country Manager at Bridgestone Costa Rica.
Today, the company develops and manufactures a wide variety of high-quality tires for different means of transportation, such as passenger cars, trucks, and agricultural vehicles, in addition to its line of tire retreads marketed under the brand Bandag.
In the last five years, the organization has invested approximately USD 68 million focused mainly on maintaining operational excellence, renewing equipment, improving production processes, and achieving more efficient manufacturing costs. In addition, Bridgestone Costa Rica serves a total of 21 markets in Central America and the Caribbean, through 100 distributors and more than 800 points of sale that serve the final consumer, as well as corporate and government fleets.
"We are very satisfied with Bridgestone's presence in Costa Rica. Our success has been possible thanks to the work of all our teammates and the good relationship we have built with our most important partners, customers, distributors, community, and government authorities. Looking ahead, our commitment is to strengthen operations in this country in order to remain a leading company and contribute to the economic and social development of Costa Ricans", said Alfonso Zendejas, President of Bridgestone Latin America North.
Vice President of Costa Rica, Ana Helena Chacón Echeverría, said, "We thank Bridgestone for trusting us and maintaining its operations in our country throughout the decades. This inspires us to work harder and strengthen our commitment to consolidate the stability and investment climates. In addition, we continue to invest in building capacities and the integral development of the population to meet market demands."
One of the main strategic axes of the company has been the development of its Corporate Social Responsibility programs. Thanks to these, the company has managed to collect about 10 thousand waste tires and build 34 B-Happy parks made from recycled tires, as well as implementing different programs focused on improving road safety culture in the country.
On the environmental side, Bridgestone also stood out in its commitment to live in harmony with Nature, thanks to the biomass boiler installed in its plant, which reduced the company's carbon emissions by 55% in the last two years. The company also has reached recycling levels of 93% and has committed to reducing water consumption by 1% per year as part of its annual strategy goals.
Bridgestone's history in the country shows and reasserts the potential of Costa Rica to attract the largest transnational companies to the national soil.