Jan 26, 2017 SAN PEDRO SULA, Honduras
Bridgestone and Redillantas Open a New Bandag Retread Plant in Honduras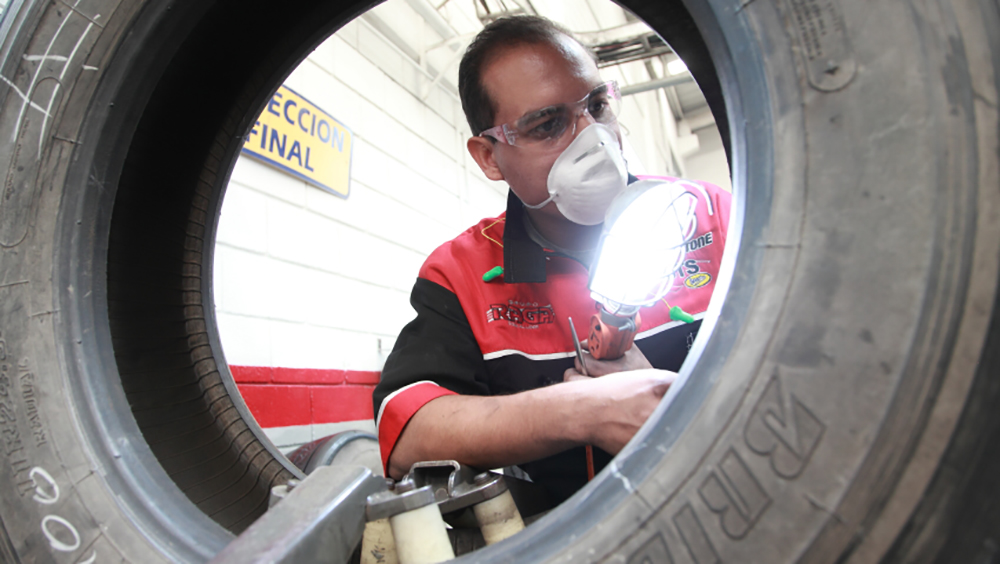 Rendillantas also rebuild five stores in Honduran territory in Alliance with Bridgestone.
Bridgestone, the world leader in tire manufacturing and other diversified products, in association with Rendillantas, recently opened a retread Bandag plant in Honduras, as part of the strengthening of the Japanese company in the region.
The presentation event took place on January 26, at the facilities of the Hotel Real Intercontinental San Pedro Sula and was attended by Erick Herrera, Country Manager of Bridgestone Costa Rica, Roger Hidalgo, Sales Director of Bridgestone Central America and the Caribbean, as well as Odde Faraj, General Manager, Rendillantas.
"With the opening of this retread plant located in Tegucigalpa, we strengthened our expansion strategy in the Central American market. With the help of our business partner Rendillantas, we contribute to providing better services and job creation in the region", said Roger Hidalgo, Sales Director of Bridgestone in Central America and the Caribbean
This Bandag plant will have truck and bus retread services and agricultural equipment. It is important to note that the retread process translates into savings of up to 18 percent of the total annual cost in tires for the owners of this type of vehicles.
It is also worth noting that retread is an excellent option for a sustainable future, the retread of each hull means 57 liters of oil savings, compared to the total manufacture of a new tire.
"Having an alliance with Bandag means for us to have a retread process that is characterized by its state-of-art technology and recognized as the best product on the market, this allows us to provide customers a service of high standards and with the best possible mileage", said Odde Faraj, Rendillantas General Manager.
Rendillantas is a company dedicated to the distribution of new tires, retreated, lubricants, batteries, protectors, patches, tools and other products focused on the automotive industry. In addition to the new Bandag plant, Redillantas also completed the remodeling of five stores in Honduras in partnership with Bridgestone.
This retread Bandag plant joins the other 10 already working in the Central America and Caribbean region and will offer to the Honduran transporters great benefits of tire retread, through the best technology and innovative processes environmentally friendly
With this opening in Central America, Bridgestone acquires a valuable ally, which will play a strategic role in the brand's positioning efforts within the region and reinforces its promise to serve the customer with superior quality.