Jan 3, 2017 San Jose, Costa Rica
Bridgestone And Hylsa Distribuitor Built New Playground Made Of Waste Tires In Dominican Republic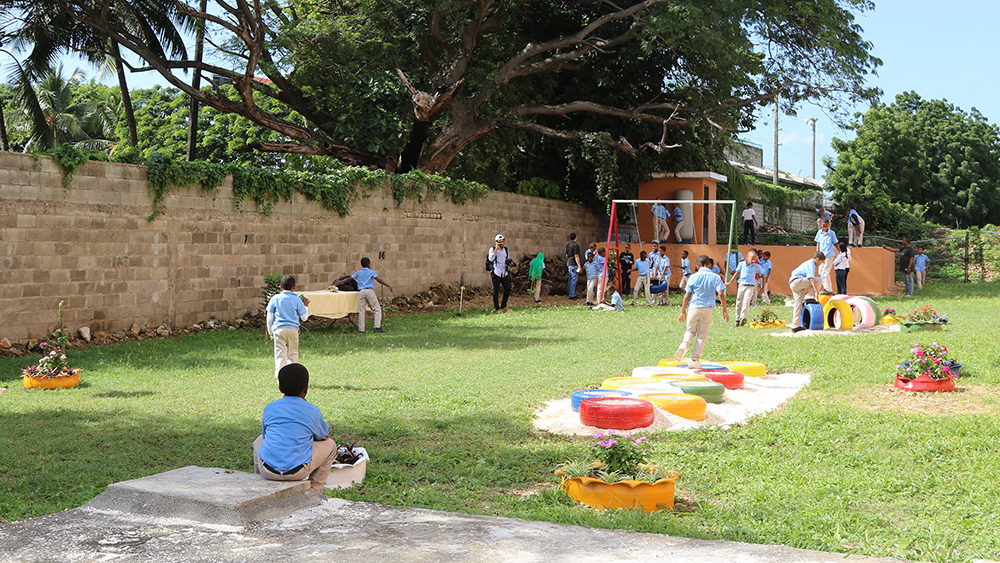 B-Happy eco-playground will benefit around 1600 children It is playground number 33 built in Central America and the Caribbean, by reuse of over 2,000 waste tires
Bridgestone and Hylsa have recently built a new B-Happy playground at Home School Santo Domingo Savio in Dominican Republic, benefiting over 1600 children.

Project is aim at creating playground modules or recreational areas using waste tires in order to promote a creative and innovative reuse to benefit communities. Experts finalized swings and other children's play modules in order to guarantee the safety and final product endurance.

Playground's opening took place December 15 during a ceremony in which participated Bridgestone and Hylsa Executives, as well as members of the Home School Santo Domingo Savio.

"At Hylsa, it is important to provide safe recreational areas for kids at Home School Santo Domingo Savio. To provide recreation grounds are fundamental to emotional, cognitive and social child development, such is why we are proud of this project's development," said Karen Herrera, Executive Vice-President of Hylsa Distributor.

In addition, these initiatives allow Bridgestone to benefit children by raising awareness about tire reuse, and so reduce breeding grounds for diseases through the proliferation of dengue, zika or chikungunya.

"B-Happy playgrounds reinforce our commitment to the environment, as well as to the communities where we operate, while contributing to children' and adults' health. Our eco-playgrounds have allowed Bridgestone to favorably apply new disposal procedures of around 2,000 waste tires," said Amelia Vives, Corporate Communications and Social Responsibility Manager at Bridgestone Latin America North. BS-LAN.

Since the implementation of B-Happy project in 2012, Bridgestone has achieved playground number 33 in Costa Rica, Dominican Republic, El Salvador, Guatemala, Nicaragua and Panama City, benefiting over 33,600 children.

The building B-Happy playgrounds is one Social Responsibility activity developed by Bridgestone as part of its "People" priority area, which is aim at promoting healthier communities. It also addresses Bridgestone's mission to serve society with superior quality.