Oct 10, 2017 Joliette, Quebec
Bridgestone's Joliette Tire Manufacturing Plant Wins the "Coup de Coeur" Award from Prix Créateurs d'emplois du Québec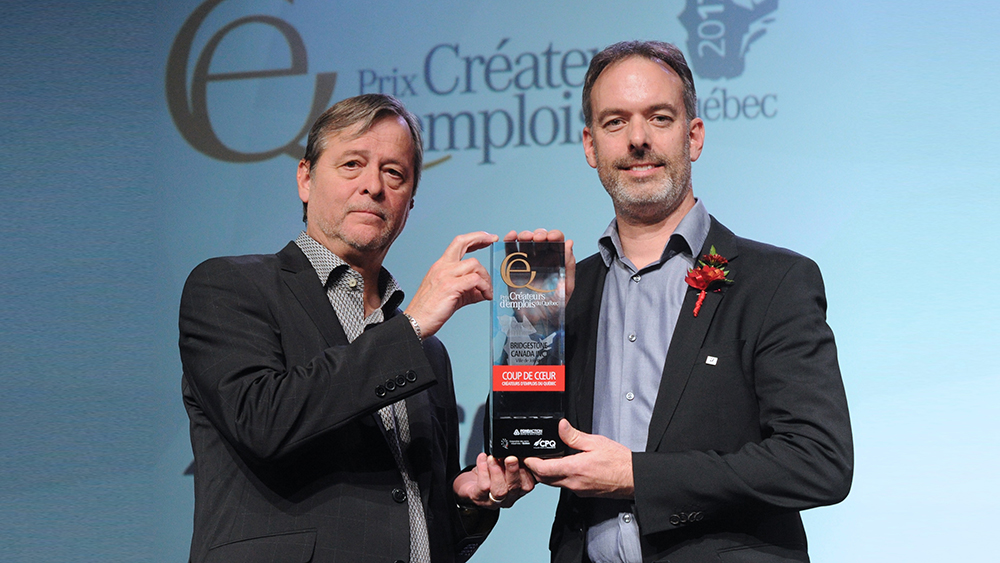 Bridgestone Canada Inc. (Bridgestone) today announced that its Canadian passenger and light truck tire manufacturing facility in Joliette, Quebec was recognized as a significant job creator in the Lanaudière region during the Prix Créateurs d'emplois du Quebec Awards Gala on Oct. 4.

This recognition demonstrates Bridgestone's exemplary contribution to innovation and economic sustainability in the Lanaudière region.

The Bridgestone plant in Joliette, recipient of the "Coup de Coeur" category in the Lanaudière region, provides a safe and innovative working environment for its 1,300 employees.

"Our plant ranks as the largest private employer in the Lanaudière region" said Robert Verreault, general manager of the Bridgestone Joliette plant. "This award is a testament to our plant providing quality jobs in a safe and innovative work environment for more than 50 years."

According to Verreault, this recognition is a great opportunity to recruit new employees, especially since the Bridgestone plant in Joliette is currently recruiting for different positions.

The Prix Créateurs d'emplois was created to highlight the important contribution of leading job creators to the economic development of Quebec and its 17 administrative regions. The award celebrates the creation, maintenance and exceptional growth of quality jobs from a sustainable development perspective.

Currently, the Bridgestone Joliette plant, which produces passenger and light truck tires, is in the midst of an estimated CA$300 million multi-phase expansion project, which broke ground in 2016. This expansion will help the plant meet market demand by producing larger diameter tires that fit today's pickup trucks and SUVs, as well as increasing productivity and enhancing the plant's global competitive position.