Oct 19, 2017 NASHVILLE, Tenn.
Bridgestone Americas Wins Nashville Downtown Partnership's 2017 INVEST Award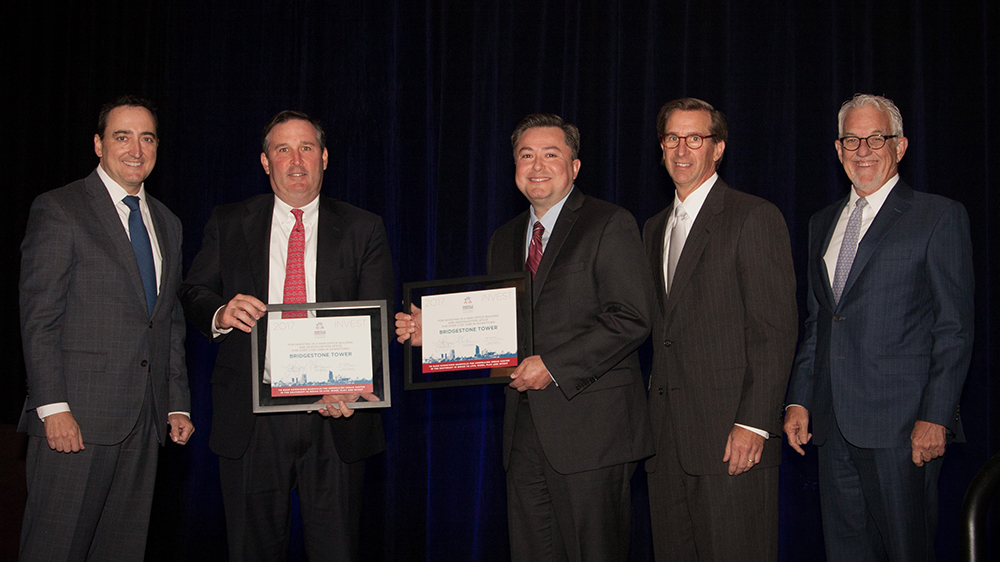 Bridgestone Tower Recognized for Impact on Growing Downtown Community and Economy
The Nashville Downtown Partnership honored Bridgestone Americas with its 2017 INVEST award for the addition of Bridgestone Tower to the vibrant and dynamic downtown community. Bridgestone was presented the award at the Nashville Downtown Partnership's 2017 Annual Meeting and Awards Luncheon on October 18.

"We are honored to receive the INVEST award and proud to call downtown Nashville home," said Gordon Knapp, CEO and President of Bridgestone Americas. "Organizations like the Nashville Downtown Partnership are having a resounding impact on our city. We look forward to working with all of the downtown businesses and organizations in the years to come to make sure this neighborhood only gets stronger."

Home to more than 1,700 teammates and rising 30 stories, Bridgestone Tower is among the most significant corporate headquarters to open in the history of Nashville's urban core. The Tower is home to Bridgestone Americas corporate staff and six core business units: Bridgestone Americas Tire Operations; Bridgestone Retail Operations; Firestone Building Products; Firestone Fibers and Textiles; Firestone Natural Rubber; and Firestone Industrial Products. The Nashville Downtown Partnership recognized the Tower in part for the projected economic impact it will have on the city.

Starting in 2003, the Nashville Downtown Partnership has honored over 150 individuals, companies and organizations for outstanding achievements in the LIVE, WORK, PLAY and INVEST categories. Award winners recognized at its annual awards luncheon have all made specific and significant contributions in downtown Nashville.

The Nashville Downtown Partnership is a private sector nonprofit corporation whose core purpose is "to make Downtown Nashville the compelling urban center in the Southeast in which to LIVE, WORK, PLAY and INVEST." Organized in 1994, the Partnership has transitioned into a downtown leadership organization that focuses on business recruitment and retention, residential and retail development, public space management, access and transportation, communications and marketing.