Dec 23, 2016 Cienega de Flores, Monterrey, N.L.
Brigestone's Manufacturing Facility In Monterrey Receives 'Outstanding Quality Award' By Fiat Chrysler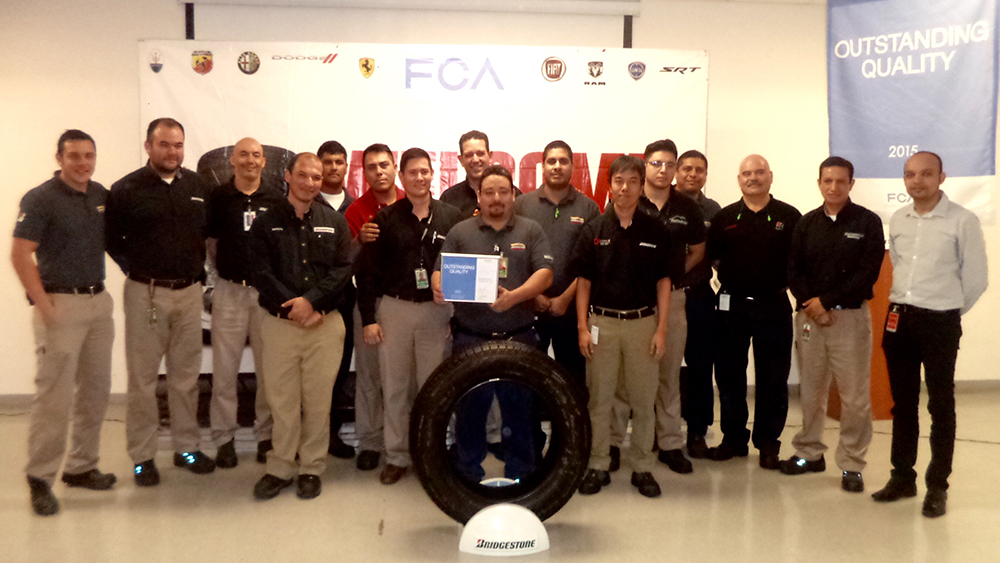 Thanks to the outstanding results and excellent performance, Bridgestone Neumaticos Monterrey (BSMR), located in Cienega de Flores, Monterrey, Nuevo Leon, has recently received the 2015 Outstanding Quality Award from Fiat Chrysler Automobiles (FCA).

Emilio Barranco, Quality Manager and Omar Díaz, Operations Manager at Monterrey Plant, received the recognition from the hands of Pedro Carapia, Senior Quality Engineer of FCA, at a ceremony attended by Bridgestone executives, representatives of the company's union and the FCA management staff.

"We are proud to receive this award from Fiat Chrysler Automobiles, which not only recognizes plant's performance, but the Mexican workforce and its great quality and efficiency," commented Emilio Barranco.

The award, signed by Scott Thiele, FCA Global Purchasing Manager and Tony Breders, Supplier Quality Manager, FCA North America, acknowledges the best suppliers in 2015 in the areas of Quality and Performance.

"At Bridgestone, we constantly innovate our processes in order to offer high quality products and services to our commercial allies, thus strengthening our strategic relationships as such is the case with Fiat Chrysler," said Omar Díaz, Operations Manager, Bridgestone Neumaticos de Monterrey.

By receiving important awards, Bridgestone reaffirms its commitment to serve society with superior quality, and strengthens its worldwide leadership in the tire manufacture.