Dec 23, 2016 Cuernavaca, Morelos
Brigestone's Manufacturing Facility In Cuernavaca Receives 'Outstanding Quality Award' By Fiat Chrysler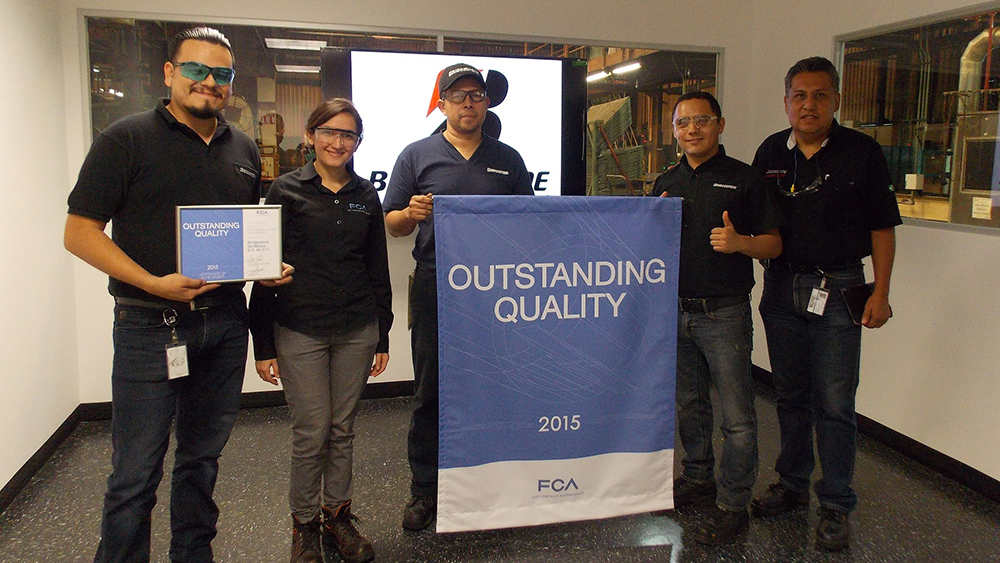 Thanks to the outstanding results and excellent performance, Bridgestone Mexico´s manufacturing plant located in Cuernavaca, Morelos, received for the second consecutive year the 2015 Outstanding Quality Award by Fiat Chrysler Automobiles (FCA).

Manuel Palma, Production Manager at the Cuernavaca plant received the award from Maria Fernanda Ruiz, Senior Quality Engineer at FCA, at a ceremony attended by executives from the company.

"For the second consecutive year, we are awarded with an outstanding distinction by one of the most renowned vehicle manufacturers globally. This recognition highlights our products' performance, the excellent workforce and our employees' commitment to serve customers with Superior Quality," said Manuel Palma.

The award, signed by Scott Thiele, FCA Global Purchasing Manager and Tony Breders, Supplier Quality Manager, FCA North America, acknowledges the best suppliers in 2015 in the areas of Quality and Performance.

"At Bridgestone, we are committed to the quality of our products, thus we seek the innovative and strictest quality standards, as well as continuous improvement in all our processes, which have led us to be awarded today with this recognition," said Palma.

Bridgestone plants are dedicated to the manufacture of high and ultra-high performance tires in the city of Cuernavaca, Morelos, as well as in Monterrey, Nuevo León; which has also received the FCA badge recently; in addition to a third plant in Leon, Guanajuato dedicated to the manufacture of tire retreaded products.

By receiving important awards, Bridgestone reaffirms its commitment to serve society with superior quality, and strengthens its worldwide leadership in the tire manufacture.