Oct 25, 2016 NASHVILLE, Tenn
Bridgestone Supporting Six Organizations Personally Selected by Olympic and Paralympic Athletes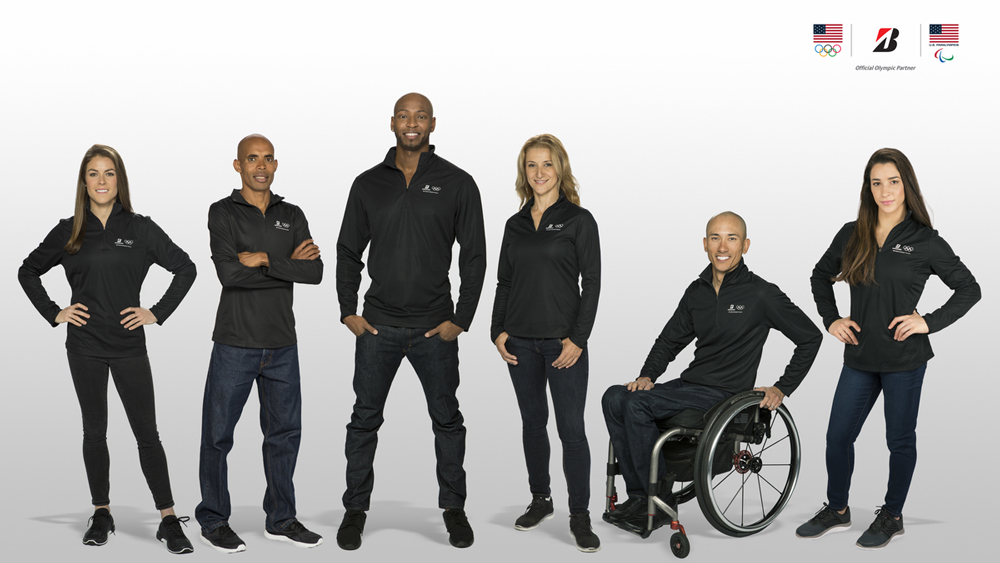 Worldwide Olympic Partner's "Behind the Performance" program helping Team Bridgestone honor those who have inspired and influenced their journey
Bridgestone Americas, Inc. (Bridgestone), a subsidiary of the world's largest tire and rubber company, today announced it is making financial donations to six deserving organizations on behalf of "Team Bridgestone" – the six U.S. athletes and para-athletes who partnered with the brand leading up to and during the Rio 2016 Olympic and Paralympic Games. The support is part of Bridgestone's "Behind the Performance" program, which is designed to celebrate each Team Bridgestone athlete's relentless passion for performance and honor those who helped inspire and support their Olympic journey.

Six-time Olympic medalist Aly Raisman (gymnastics), four-time Olympian Meb Keflezighi (track & field, marathon), two-time Olympian Kelley O'Hara (soccer), four-time Olympic medalist Cullen Jones (swimmer), five-time Olympian Khatuna Lorig (archery) and 2016 Paralympic gold medalist Will Groulx (para-cycling) each personally selected an organization to receive a $10,000 donation from Bridgestone. The six decorated athletes and para-athletes were named to Team Bridgestone in April in part because they share the company's commitment to community service.

"Bridgestone knows that Olympians and Paralympians are built to perform at the highest level, and they wouldn't be able to get there without a strong team of supporters, including family, friends, teammates and coaches," said Paul Oakley, Vice President, Communications, Bridgestone Americas. "We have been very proud to support Aly, Meb, Kelley, Cullen, Khatuna and Will as they chased their dreams this year, and now we are proud to help them give back to the communities, organizations and people that have inspired and supported their performance."

Throughout October and November, each Team Bridgestone athlete will be making local hometown appearances to visit their chosen organization and formally present the donation. The recipients are as follows:

Aly Raisman and Dana-Farber Cancer Institute (Boston): Rasiman is honoring her grandmother, Nancy Raisman, who always supported her gymnastics dreams and sadly passed away from lung cancer a few years ago. The donation to the Lowe Center for Thoracic Oncology at Dana-Farber, located in Aly's hometown of Boston, will honor her grandmother's memory and help continue the advances that have been made in treating lung cancer. Since its founding in 1947, Dana-Farber Cancer Institute has been committed to providing the best treatment available today to adults and children with cancer while also working to develop tomorrow's cures through cutting-edge research.

Kelley O'Hara and Children's Healthcare of Atlanta (Atlanta): A Georgia native, Kelley visited Children's Healthcare of Atlanta in 2012 and the patients, doctors and nurses all made a lasting impression. Bridgestone's donation on behalf of Kelley will help Children's advance its work as the largest healthcare provider for children in Georgia and one of the largest pediatric clinical care providers in the country.

Meb Keflezighi and The MEB Foundation (San Diego): When Meb was a young athlete, there were many people who helped encourage him and made it possible for him to pursue his Olympic goals, which is one reason he started The MEB Foundation in 2010 – so that he could do the same for future generations. The donation will help The MEB Foundation continue its mission to promote youth health, education and fitness in the local San Diego community, and empower today's youth and their families to perform their best, stay active, and achieve their own Olympic dreams.

Will Groulx and Adaptive Sports Northwest (Portland): Shortly after sustaining a spinal cord injury in a motorcycle accident, Will vowed that he would one day compete in the Paralympic Games. Now a two-sport Paralympic champion and six-time medalist, Will is committed to promoting an active lifestyle for people of all ages with disabilities through his role as Director Emeritus with Adaptive Northwest Sports (ASNW). Bridgestone's donation on behalf of Will will help ASNW continue providing adaptive sports and recreational opportunities with a goal of teaching life lessons through sport and inspiring all people with physical disabilities to realize their personal possibilities.

Cullen Jones and the USA Swimming Foundation (Colorado Springs): When he was five years old, Cullen almost drowned at a water park. Following this near-death encounter, his mother decided to enroll him in swimming lessons, sparking the passion that would help him became the second African American to win gold in swimming. Since May 2009, Cullen has served as a proud ambassador for the USA Swimming Foundation and Make a Splash, a national child-focused water safety campaign which aims to provide the opportunity for every child in America to learn to swim. The donation will help the USA Swimming Foundation continue to partner with local organizations and advocates across the country to provide swimming lessons and educate children and their families on the importance of learning to swim.

Khatuna Lorig and the Easton Sports Development Foundation (Van Nuys, Calif.): Lorig, a five-time Olympian in the precision sport of archery, has been working with the Easton Sports Development Foundation near her adopted U.S. hometown of San Diego for many years. The donation will help the foundation continue its mission to promote and maintain the viability of archery by growing the sport as a mainstream activity at the state, regional and national level – and inspire the next generation of Olympic hopefuls.

The Rio 2016 Olympic Games marked Bridgestone's first since signing on as a Worldwide TOP Olympic Partner in June 2014. As the Olympic flag passes now from Rio to Tokyo, and as its 10-year partnership with the Olympic Movement continues, the company will work with the IOC to support the Olympic Games and the 206 National Olympic Committees and their Olympic teams around the world – including the United States Olympic Committee (USOC) and U.S. Paralympics.

To learn more about Team Bridgestone and the Behind the Performance program, visit BridgestoneAmericas.com.