Aug 25, 2016
Bridgestone Reinforces its Commitment to Sustainability by Publishing its "Sustainable Integration and Commitment" Report for Mexico, Costa Rica and Colombia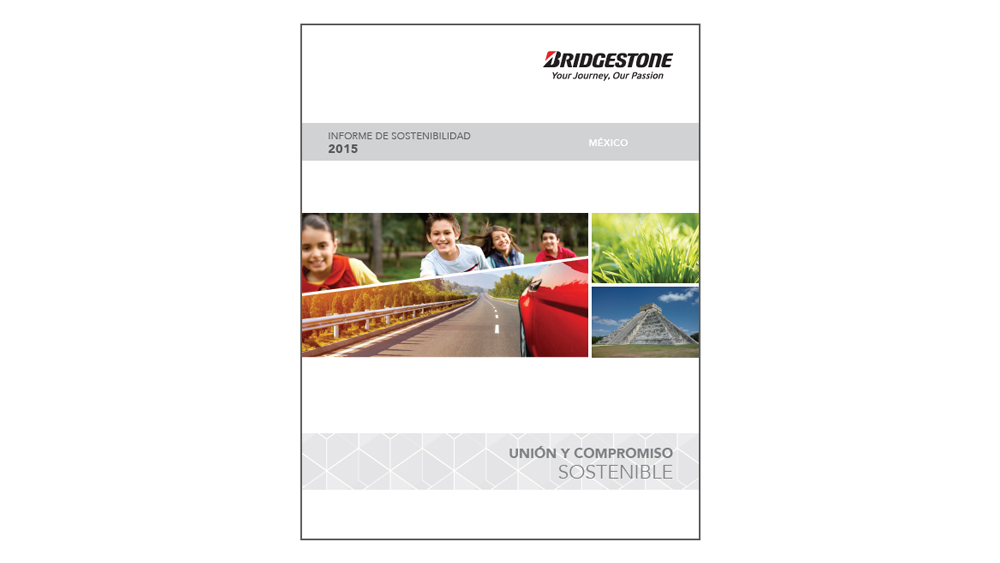 The company has published its first holistic Sustainability Report based on seven strategic areas and in accordance with GRI's G4 guidelines
Bridgestone, the world's leading manufacturer of tires and other diversified products, has published its "Sustainable Integration and Commitment" report, showcasing the results and indicators achieved in 2015 by the Bridgestone Latin America North (BS-LAN) business unit.
This is the first report of its kind for Mexico, Costa Rica and Colombia and was put together "in accordance" with the G4 sustainability reporting guidelines provided by the Global Reporting Initiative (GRI), covering the period between January 1 and December 31, 2015.
"Issuing this report is aligned with our commitment towards establishing a sustainability-oriented business model," said Daniel Benvenuti, President and Managing Director of Bridgestone Latin America North, BS-LAN. "We worked closely with our stakeholders in order to achieve the results we are presenting today – always in line with the Sustainable Development Goals set by the United Nations and applying methodologies to ensure the accuracy of our results."
In preparing this report, the company defined the main sustainability issues to address, i.e., the specific relevant issues to be reported on in each country. In Mexico, these issues were defined through a materiality study, while in Costa Rica they were determined in accordance with the Social Responsibility Standard INTE 350101. As Colombia's operations are exclusively commercial, the priority issues were defined based on those determined for the other two countries. According to the G4 guidelines, the materiality process includes: Identifying, prioritizing and validating material issues for the different business areas in the company.
Bridgestone Corporation, headquartered in Japan, has recently defined three priority areas for sustainability worldwide: mobility, people and environment. Based on these three aspects, the company carries out different actions aimed at achieving social, ethical and economic development across its operations. In light of this, seven strategic areas were identified: Organization Governance, Human Rights, Labor Practices, Environment, Fair Operating Practices, Consumer Issues, Community Involvement and Development, with the goal of having a positive impact on all stakeholders. This new corporate vision is reflected on this sustainability report.
"Preparing the 2015 Sustainability Report at a regional level drives us closer to achieving our goals and helps us strengthen our commitment towards our stakeholders," stated Amelia Vives, Manager, Corporate Communications & Social Responsibility at Bridgestone Latin America North, BS-LAN. "In order to ensure high accuracy in our results, not only was the GRI's G4 methodology implemented, but the report was also verified and supported by external consultants, specifically sections referring to Mexico and Costa Rica, highlighting our corporate transparency," she added.
At Bridgestone, "serving society with superior quality" is the mission that the company has inherited from its founder, accepting its responsibility towards the future generations as a global leader in the industry. In line with its sustainability vision, Bridgestone and its teammates leverage innovation and technology to improve the way people move, play, work and live.
For more information on this report and the activities carried out by Bridgestone Latin America North, BS-LAN, visit http://www.informebridgestone.com/sostenibilidadBS-LAN/