Dec 23, 2016 Mexico City, Mexico
Bridgestone Receives "Superbrands Mexico" Award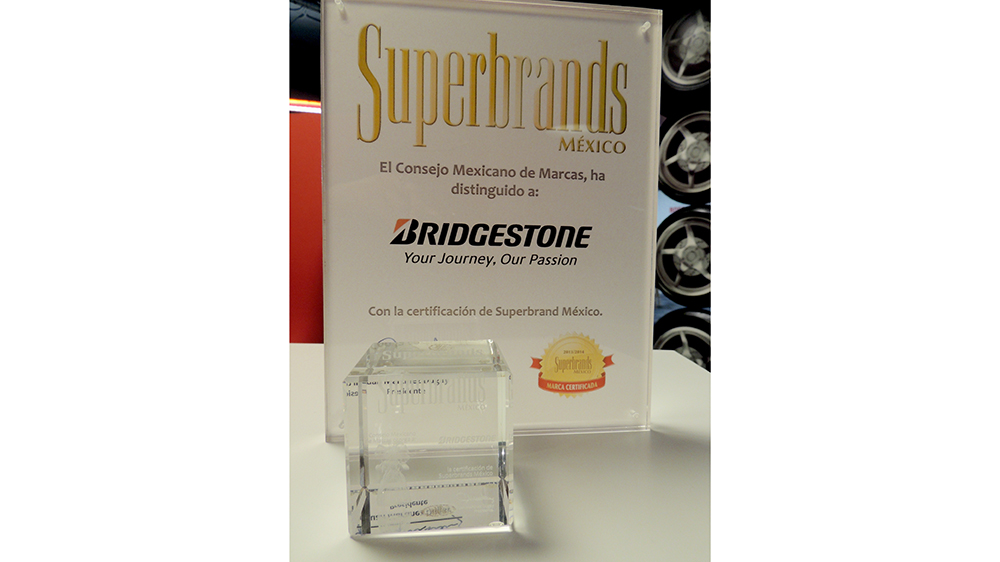 The Japanese company is recognized for the sixth consecutive year by the highest branding authority at a national level.
Bridgestone, world leader in tire manufacture, was recognized for the sixth time with the 'Superbrands México' award in the 2016-2017 listing, which annually incorporates the most prestigious brands.

At the award ceremony of awarding brands incorporated to the 2016 Superbrands Mexico list, Amelia Vives, Manager of Corporate Communication and Social Responsibility for Bridgestone Latin America North, BS-LAN, received the award on behalf of the company.

"We are pleased to continue to strengthen our history and brand values in Mexico through this recognition. To be distinguished as a Great Brand, we highlight our leadership in the production and sale of tires, as well as in the development and implementation of successful commercial, social, communication and marketing activities," Vives said.

Superbrands Certification Seal is granted to brands that have gained a prestigious status as Greatest Brands of Mexico by the Mexican Council of Brands. For this edition more than a thousand brands were evaluated, and only 120 were selected, which are the ones that received the annual certification.

Superbrands is an international organization recognized as the top authority in branding worldwide and pays tribute to brand building, present in more than 80 countries on five continents. Its goal is to identify, reward and honor those brands with achievements that surpass their competitors around the world.

By obtaining this certification, Bridgestone reinforces its position and prestige in the market, where it is recognized as a great model of success. Being a great brand represents a constant challenge to maintain the quality and innovation that Mexican consumers need.