Jul 15, 2016 SANTO ANDRE, Brazil
Bridgestone Receives Award by General Motors for Excellence in Quality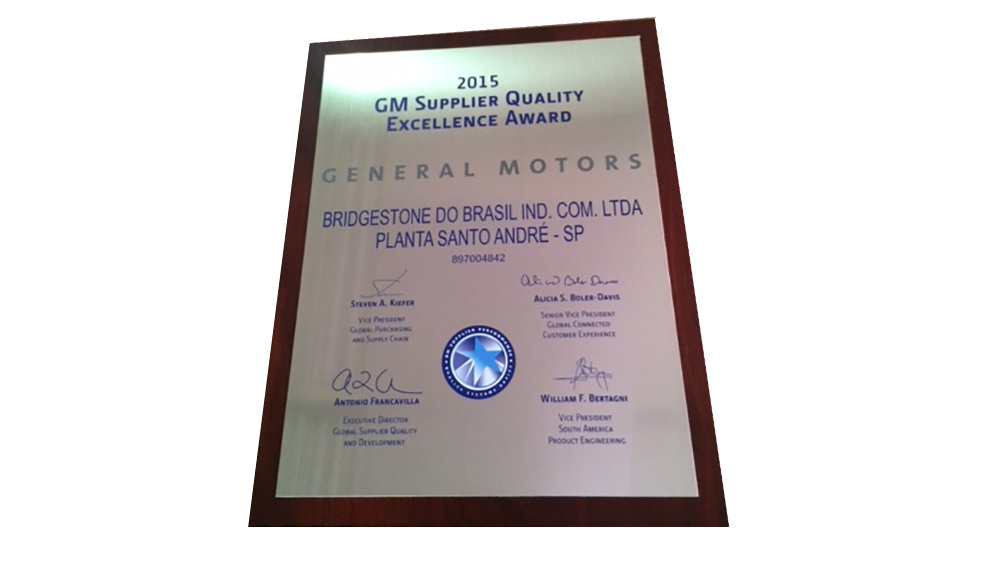 Bridgestone, the world's largest manufacturer of tires, was awarded by General Motors during the fourth edition of the "Supplier Quality Excellence Award." During the ceremony held in São Caetano do Sul (SP), the company awarded suppliers who maintained excellence in performance and quality in 2015.
"We are honored by the recognition of our culture of quality and focus on customer satisfaction," said Marcos Aoki, Original Equipment Director of Bridgestone Brazil. "This award is a tribute to our employees who produce the high quality tires and provide an exceptional service that partners like GM expect from Bridgestone".
The "Supplier Quality Excellence Award" is a global award also held in Europe, North America and Asia which was launched in Brazil in 2012. In order to be considered, the winners must achieve the objectives of 13 specific quality criteria, such as having certifications ISO/TS and QSB, providing components and/or subsystems within the required quality metrics, have an adequate program management system and not cause disruption on the assembly line or patio campaigns/field during the period of twelve months.