Apr 5, 2016 TOKYO
Bridgestone Group Awards 2016 Awards Ceremony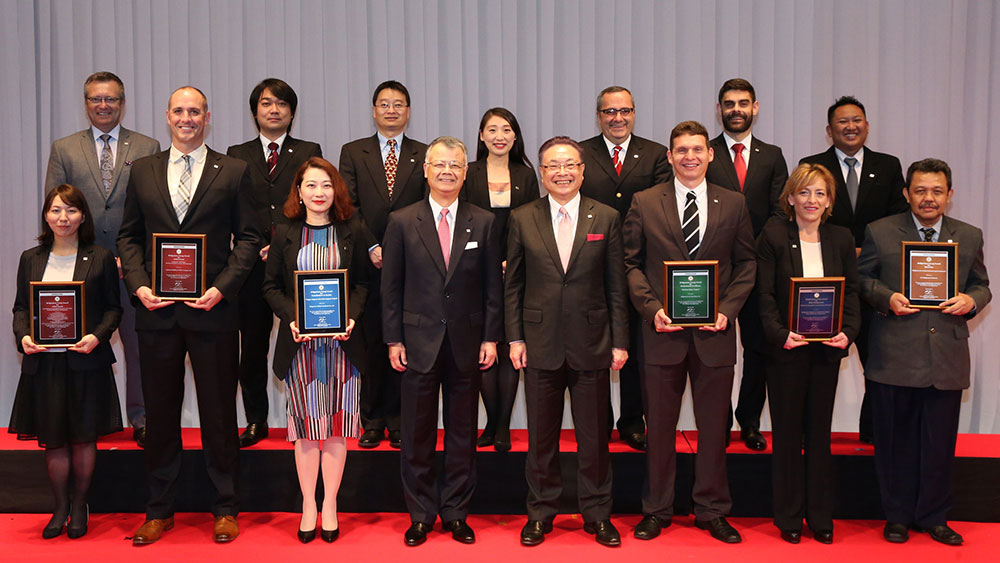 Bridgestone CEO and COO with the winners of the Bridgestone Group Awards 2016
Bridgestone Corporation today announced that the "Bridgestone Group Awards 2016" Awards Ceremony was held on March 30.
The Bridgestone Group Awards are a recognition program open to all organizations and employees of the Bridgestone Group. The Bridgestone Group Awards were created with purpose of increasing employee awareness of corporate activities based on the Bridgestone Corporate Philosophy and fostering a sense of unity among Group employees. This program has been held every year since 2008 to recognize the Bridgestone Group's highest level of awards. In addition, the Awards play an important role in working toward achieving the Group's ultimate goals of becoming a truly global company and "Dan-Totsu in all aspects of our businesses."
This year, the awards fall into 5 categories: "Achievement," "Contributions to Society," "Environmental Excellence," "Risk Management" and "Education." Our global board members held a Screening Committee to discuss and determine the winners from submitted initiative. As a result, among all the various activities conducted by organizations and employees of the Group, six activities were selected for recognition this year.
Bridgestone Group considers the Bridgestone Group Awards as an important management tool. Amid significant change in our operating environment, innovation and continuous improvement is essential in order to secure a competitive advantage and create value for both our customers and society. By recognizing outstanding activities through the Bridgestone Group Awards and sharing examples of best practices, we believe we can achieve further improvements across the entire Group.
The activities selected for recognition are as follows.
Achievement: Two Awards
Recognized activity

Contribution through global/regional brand strategy by REGNO/POTENZA development

Award winning team

Bridgestone Corporation,

Bridgestone Tire Japan Co., Ltd.

Bridgestone Americas Tire operations, LLC

Overview

This activity entails the development and launch of POTENZA RE-71R, REGNO GR-XI, and GRV II. While being specialized in appealing aspects of performance such as driving (fun to handle), quietness, and comfort, REGNO GR-XI and GR VII achieve a high degree of balance between all seven aspects required of tire performance, thus satisfying customer needs. In addition, both existing technologies—such as "ULTIMAT EYE"– and new technologies used in these tires strongly appeal to customers, which contributed significantly to sales.
| | |
| --- | --- |
| Recognized activity | CoreGard™ Technology: The Next Generation in Class A Fire Protection |
| Award winning team | Firestone Building Products Company, LLC |
| Overview | This activity entails developing CoreGard™ Technology, a new technology that to be environmentally-sustainable and fire-resistant capabilities. The new product CLAD-GARD™ SA-FR was put on the market in 2015 and has made customer easier and safer compared to similar existing materials, in addition to contributing to economic efficiency. |
Contributions to Society: One Award
| | |
| --- | --- |
| Recognized activity | Happy Tangram Education-Support Project |
| Award winning team | Bridgestone (China) Investment Co., Ltd. (BSCN) |
| Overview | This activity entails having BSCN provide music, art, physical education, and other classes to local children who do not have the opportunity to receive sufficient aesthetic education. Starting in 2009, this activity has extended to over 20 elementary schools, offering support to over 10,000 children and teachers and donating 60,000 books. BSCN teammates have participated in the activities as volunteers. |
Environmental Excellence: One Award
| | |
| --- | --- |
| Recognized activity | BioMass Boiler Project |
| Award winning team | Bridgestone de Costa Rica, S.A. |
| Overview | This activity entails the introduction of the Bridgestone Group's first biomass boiler in 2014. The boiler has succeeded in reducing the plant's CO2 emissions by roughly 50% by replacing fossil fuel oil with wood pellets as biogenic fuel for the boiler. The introduction of the biomass boiler was an unprecedented event in Costa Rica. Accordingly, the boiler's opening ceremony was held with the president of Costa Rica in attendance, and a variety of media outlets have reported on the boiler. |
Risk Management: One Award
| | |
| --- | --- |
| Recognized activity | PSM Fire Emergencies User Interface "Fireway" |
| Award winning team | Bridgestone Hispania S.A. |
| Overview | This activity entails the in-house construction of the fire emergency warning system "Fireway" in Puente San Miguel Plant. With "Fireway," when the fire alarm rings, the area where the fire is occurring and a route to that area are immediately displayed on plant's internal monitors. This system helps with the initial response of private fire brigades and instantly displays escape routes, which leads to smooth evacuations. |
Education: One Award
| | |
| --- | --- |
| Recognized activity | Bridgestone Free Vocational Education Support in Indonesia |
| Award winning team | P.T. Bridgestone Tire Indonesia |
| Overview | This activity entails the provision of free-of-cost industrial training education to technical high-school graduates at the LLK-BS school, which was established in 1982. Every year, 24 students enter the school and are able to learn about not only the theory and practice of electrical and mechanical engineering, but also management skills and languages. After graduating, students draw upon the technologies they have learned about to find employment not only at Bridgestone but also at other companies in all areas of Indonesia. In 2010, the school received recognition from Indonesia's Ministry of Industry and Trade. |