Jul 19, 2016 Mexico City
Bridgestone Ecopia™, a tire solution to reduce CO2 in Mexico City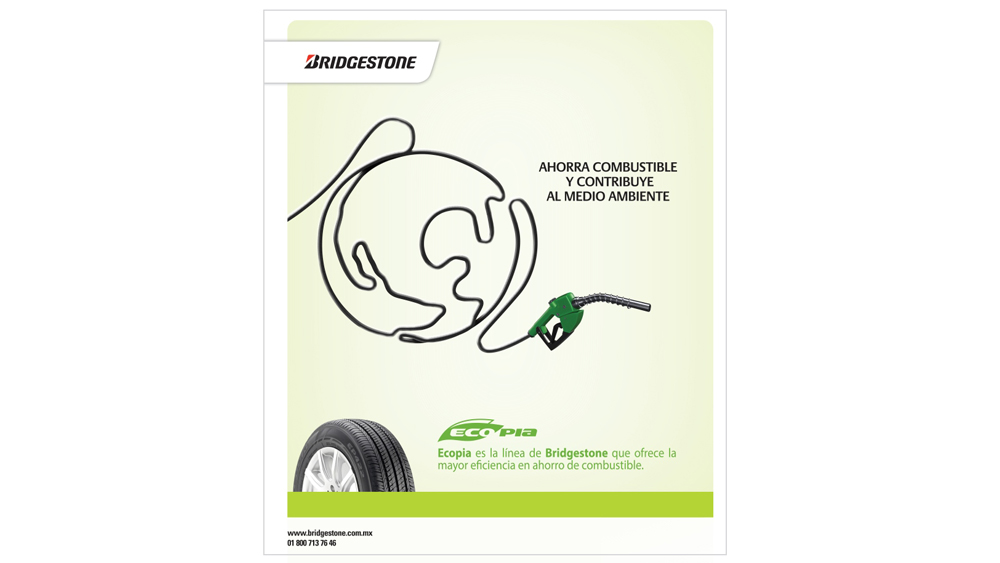 Bridgestone, the world leader in tire manufacturing and other diversified products, contributes to the reduction of CO2 with its tires based on ECOPIA™ technology. With its Latin American headquarters based in Mexico City, which has been considered the most polluted city in the world, Bridgestone's new tires allow vehicles to emit less pollutants by making the use of fuel more efficient by reducing rolling resistance.
Recently, the Mexican Ministry of Environment and Natural Resources reported that during the 74 days between April and June, when 88.6 million vehicles stopped circulating in Mexico City and the Metropolitan Area, there was a reduction in primary pollutants – 35 percent in carbon monoxide and 30 percent of nitrogen oxides.1
In this context, the Bridgestone ECOPIA™ family represents an alternative to keep reducing these pollutants rates in The Megalopolis (Mexico City, Estado de Mexico, Morelos, Hidalgo and Puebla) thanks to fuel efficiency.
Carlos Mondragon, Sales Engineering Manager in Bridgestone Mexico, explains, "It is proven that tires with ECOPIA™ technology helps vehicles to reduce CO2 emissions. A comparative test, under the same conditions, between ECOPIA EP422™ Plus tire and the Firestone FR710 model, not ECOPIA™, showed an improvement of fuel efficiency by five percent."
This number is based on a laboratory test of rolling resistance between vehicles with the tires mentioned above. Actual results may vary based on proper maintenance, vehicle, driving style and road conditions.
"The test showed that for every 400 miles traveled (full tank) ECOPIA EP422 ™ Plus tires gives 20 extra miles. We are witnessing the beginning of a new way to manufacture tires, and I'm proud to say we are the leaders," said Mondragon.
Bridgestone, as a company committed to innovation, developed two patents that are part of the ECOPIA™ family tire architecture: Fuel Saver Side and NanoPro-Tech™ polymer technology, which is responsible for limiting the energy loss to getting a lower rolling resistance. All of these features allow ECOPIA™ tires having an optimum performance in all seasons.
The trend in the manufacture of eco-friendly tires has had a positive impact on production and sales for Bridgestone ECOPIA™ family. During the first half of 2016, the company produced (daily average) 4,776 tires of this type, that represents 25 percent of total daily production in Cuernavaca, Morelos, Plant from January to June.
"Daily, automotive OEMs have shown us their interest in tires with eco-friendly features. From January to June, 2016, 52 percent of the ECOPIA™ family tires produced have been sold to OEMs, 44 percent to the export market and four percent was for replacement", said Eduardo Ochoa, Sales Director, Bridgestone Mexico.
"These numbers show that there is an area of ​​opportunity with final consumers – both car and van drivers. We need to show them Bridgestone has an alternative tire which are safe, ecological and allow them saving money by reducing fuel consumption," said Ochoa.
In addition to this family of tires, the Bridgestone research team has developed various technologies aimed to protect the environment, such as investigations of guayule and dandelion as alternative materials in tire design.
Bridgestone, aligned to its environmental philosophy One Team, One Planet, reaffirms its commitment to provide solutions that help create a better planet for present and future generations, through eco-friendly products, such as its ECOPIA™ family tires.