Sep 29, 2016 San Jose, Costa Rica
Bridgestone Costa Rican Engineers Obtained a Total Quality Management Award in Japan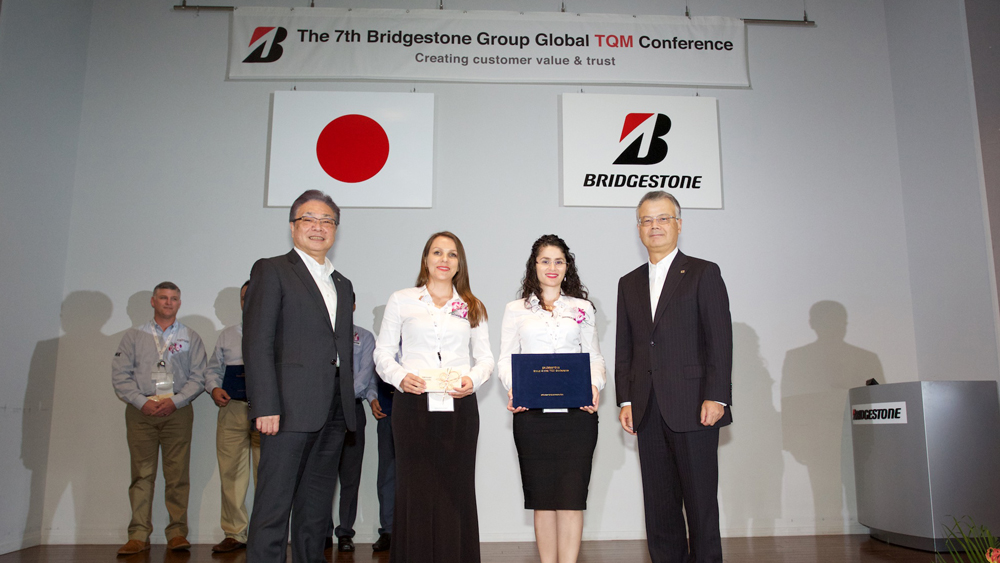 Experts developed a project to improve tire uniformity
Thanks to its innovative project to optimize tire uniformity by improving their design, two young engineers of Bridgestone Costa Rica received the recognition Total Quality Management, within the framework of the Annual Conference of Bridgestone Total Quality, held in Tokyo, Japan in September.

Natalia Carranza and Karen Arce, engineers leading the project, ensure that innovation and Continuous improvement were key points for such recognition, being that in order to achieve an optimization of uniformity in tires they used methods aimed at improving the processes, but not to work directly on the tire design, as proposed by them: "in Bridgestone Costa Rica we always want to find new solutions, so we started to investigate and realized that we could optimize the uniformity with a proposal that is really innovative", said Karen Arce. In addition, the leaders claimed that the success of the project it was only possible thanks to the support and contributions received from a multidisciplinary team that accompanied them throughout the process.

This project represents important benefits for Bridgestone and for the end customers, who will obtain a higher quality product, "an excellent tire uniformity has a positive effect on comfort for passengers, because it eliminates the possibility of vibrations and sounds", emphasized Natalia Carranza.

Marianela Alfaro, Head of Continuous Improvement in Bridgestone Costa Rica, said that the Bridgestone products are synonymous of highest quality and excellence because of its commitment to continuous improvement. She says that safety and quality are key aspects of the company mission, this has enabled them to maintain a clear leadership in the world tire and rubber.