Oct 7, 2016 San Jose, Costa Rica
Bridgestone Costa Rica receives the Award Social Responsibility in Action from the Costa Rican-American Chamber of Commerce (AMCHAM)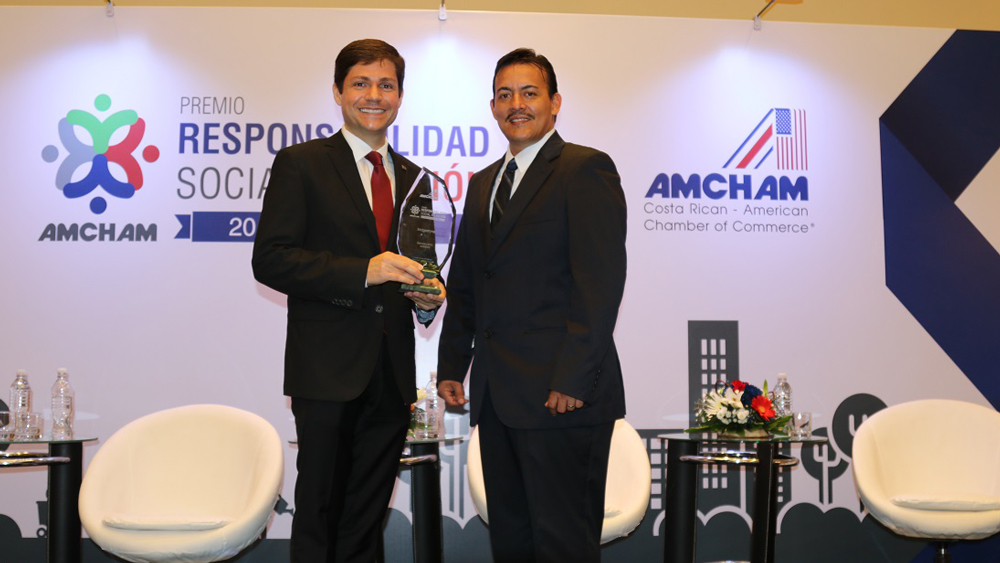 Thanks to its efforts in reducing carbon footprint, Bridgestone was recently recognized with the Award for Social Responsibility in Action, for its Biomass Boiler project.
Bridgestone, the world leader in tire manufacturing and other diversified products, received the award that recognize its environmental leadership. Edgar Cardenas, Manufacturing Director and Leoncio Rojas, Safety and Environment Manager received this recognition.

The project, previously recognized during the Bridgestone Group Awards 2016, involves the installation of a new biomass boiler, which uses wood pellets as a primary source of energy for cogeneration of steam.

The implementation of this boiler has achieved in its first year, a reduction in carbon footprint by 55% and reducing fossil fuel consumption by 65% ​​in the plant of Bridgestone Costa Rica.

The project aims to strengthen the use of cleaner alternative energies that bring Bridgestone to its goal of carbon neutrality and also collaborate with the goal of being a carbon neutral country.

Previously, Erick Herrera, Country Manager of Bridgestone in Costa Rica, said that the policy of sustainability as of the consistency, firmness and efficiency of the project Biomass Boiler reinforce the Bridgestone Costa Rica recognition.

In addition, from the 28 projects presented in different categories of the Awards Social Responsibility AMCHAM, the Biomass Boiler of Bridgestone was selected to participate for the recognition Socially Responsible Companies presented by the Association of American Chambers of Commerce in Latin America and Caribbean (AACCLA).