Mar 17, 2016 NASHVILLE, Tenn.
Bridgestone Corporation Recognized by General Motors as a 2015 Supplier of the Year Winner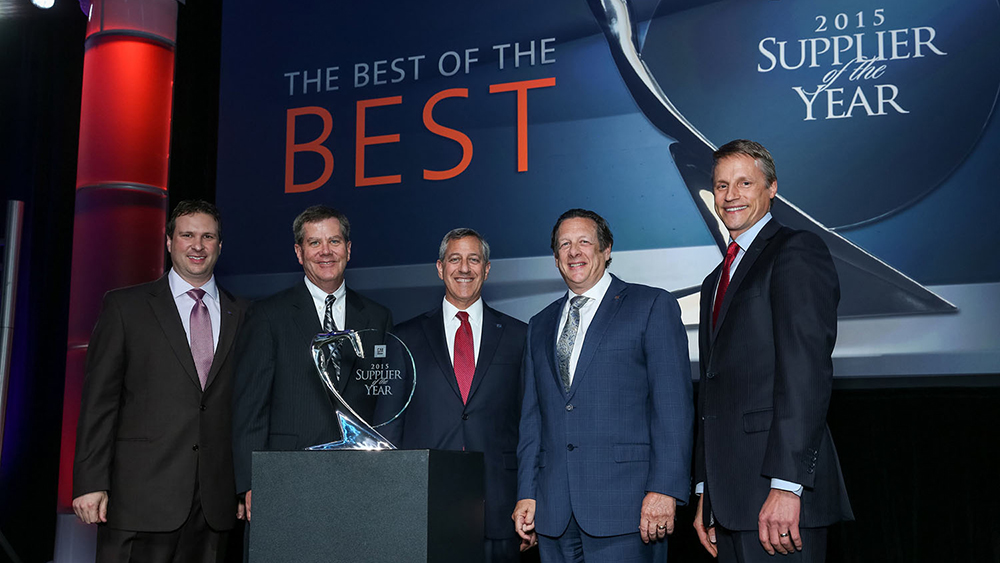 (Left to right): Brandon Vivian - GM, Executive Director, Global Product Development, Chassis; John Behr - Bridgestone, Sr. Director, OE Account Management, Bridgestone Americas Tire Operations; Gary Garfield - Bridgestone, CEO & President, Bridgestone Americas; Mike Martini - Bridgestone, President, Original Equipment, U.S. and Canada Tire Sales Division, Bridgestone Americas Tire Operations; Wade Sheffer - GM, Executive Director, Global Chassis Purchasing
Award marks 14th time company has received this distinction
Bridgestone Corporation and its global family of companies, including Bridgestone Americas, Inc. (BSAM), was named a GM Supplier of the Year by General Motors during its 24th annual Supplier of the Year awards ceremony held Thursday, March 10 at Cobo Center in Detroit, Mich. This is the 14th time Bridgestone Corporation has received the award.
GM recognized 110 of its best suppliers from 17 countries who have consistently exceeded GM's expectations, created outstanding value, or brought new innovations to the company. The announcement represented the most suppliers GM has recognized since debuting the Supplier of the Year event in 1992.
"This award is a tribute to our employees worldwide who engineer the high quality tires and provide the exceptional service that outstanding partners like GM have come to expect from Bridgestone," said Mike Martini, president, original equipment, U.S. and Canada Consumer Tire Sales Division, Bridgestone Americas Tire Operations. "We are honored that GM has recognized us for a 14th time for providing innovative solutions to meet the emerging needs of their customers."
Martini, alongside Gary Garfield, president and CEO, Bridgestone Americas and John Behr, senior director, original equipment account management, Bridgestone Americas Tire Operations, accepted the honor on behalf of the company.
"We are focused on building positive supplier relationships, bringing new, customer-centric innovations to GM, and being the OEM of choice among suppliers," said Steve Kiefer, GM vice president, Global Purchasing and Supply Chain. "The companies we recognize not only have brought innovation, they delivered it with the quality our customers deserve."
GM's 2015 supplier recognition represents a nearly 40 percent increase in the number of suppliers honored compared to 79 recipients in 2014. More than half of the suppliers are repeat winners from 2014.
Winning suppliers were chosen by a global team of GM purchasing, engineering, quality, manufacturing, and logistics executives and selected based on performance criteria in Product Purchasing, Indirect Purchasing, Customer Care and Aftersales and Logistics.