Aug 29, 2016 San Jose, Costa Rica
Bridgestone Builds a Eco-Playground with Recycled Tires in Special Education School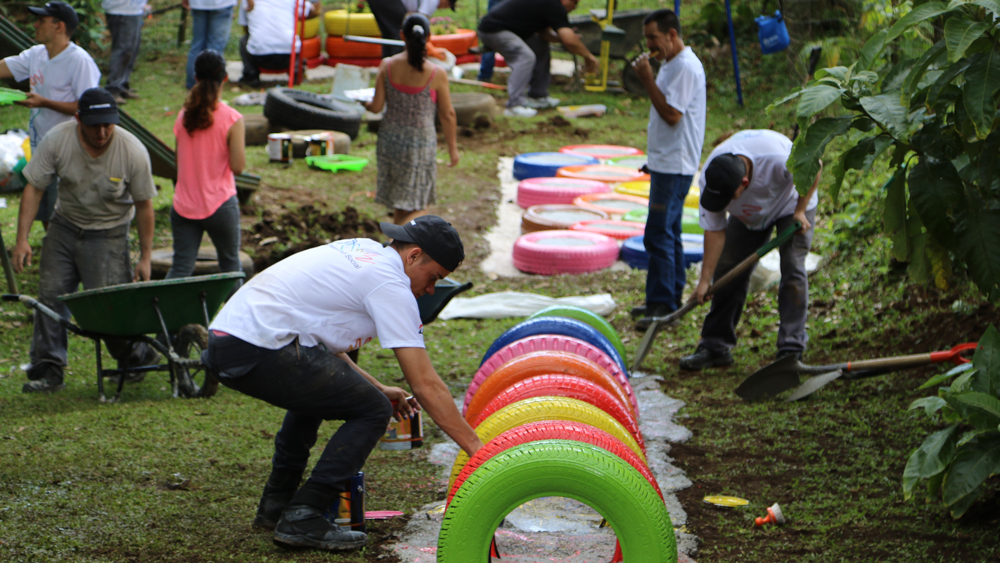 "B-Happy Parks reinforce our commitment to the environment and the communities in which we operate. We have achieved favorable reuse and dispose of 2000 scrap tires."

Josseline Leiva, Specialist in Public Relations and Social Responsibility
B-Happy Parks initiative has benefited about 12,000 children in the countries of Central America and Caribbean
At least 200 children will enjoy the new B-Happy park built by Bridgestone, in the Centro de Atención Integral Niños y Niñas Triunfadores, located in Heredia. The project involves the creation of eco-playgrounds using recycled tires, in order to promote reuse for the communities' benefit in a creative and innovative way.

The chosen location is a special school that cares children with attention deficit disorder, hyperactivity and autism, and having recreational spaces are vital to their development. "When children exercise, they improve their motor condition, balance and increase their muscle tone, also with just 30 minutes of exercise, they might improve their levels of attention within 72 hours," said Francine Víquez, School Principal.
The park's construction was made possible by the participation of 15 Bridgestone volunteers, who worked on Saturday August 27, from 8:00 to 14:00 h. In addition, professionals do the modules design of the park in order to ensure the final product's safety and strength
These projects allow Bridgestone to provide a benefit to children in communities, also reuse tires helps to cooperate with the mitigation of Dengue, Chikungunya and Zika.
"B-Happy Parks reinforce our commitment to the environment and the communities in which we operate. We have achieved favorable reuse and dispose of 2000 scrap tires " said Josseline Leiva, specialist in Public Relations and Social Responsibility in Bridgestone Costa Rica.
Since the project began in 2012, Bridgestone has built 27 parks in Costa Rica, Dominican Republic, El Salvador, Guatemala, Nicaragua and Panama, helping around 12,000 children.
B-Happy is one of the activities developed by Bridgestone as part of its Social Responsibility strategy, based on environment, mobility and people pillars and its mission to serve society with top quality.