Aug 31, 2016 Mexico City
Bridgestone Breaks Record in Collecting Used Tires at the Fourth Edition of LLANTATON Program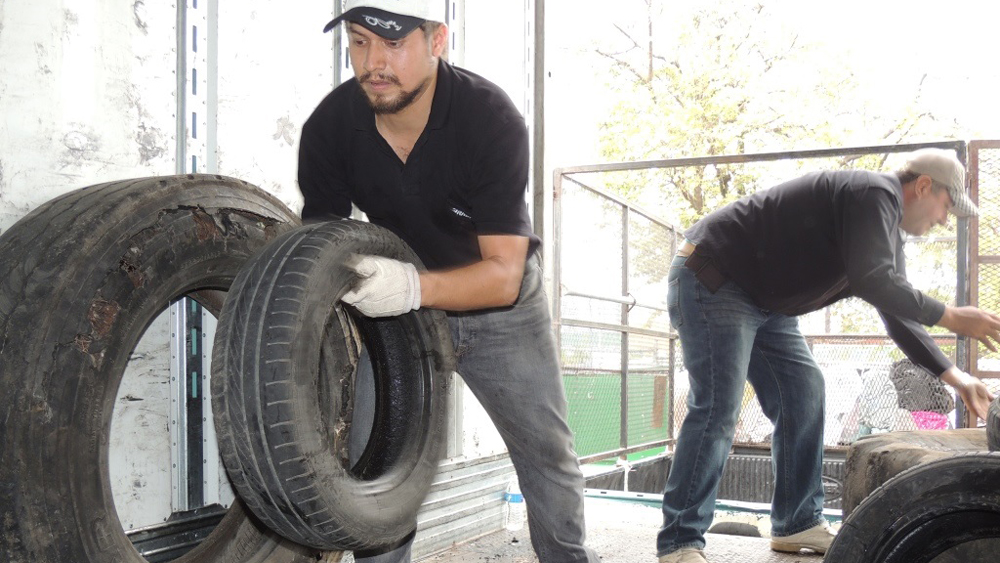 After four editions, 23,235 used tires were collected, equivalent to 213 tons. Nine municipalities at Morelos State participated in tire collection. Due to its success in Temixco, the municipality will install a permanent collection center
Bridgestone, the world leader in tire manufacture and other diversified products, together with officials from the Ministry of Sustainable Development, the Ministry of Health, the Secretary of Environment and Natural Resources (SEMARNAT) and representatives of the municipalities of Temixco and Cuernavaca, announced the results of the 4th Edition of Llantaton 2016.
Llantaton in numbers
13 855 used tires were collected, exceeding the 9,381 tires collected in past editions.
127 tons achieved, more than the 85.99 tons from past three editions together.
Overall, considering the four editions of Llantaton program, there have been collected 23,235 used tires, equivalent to 213 tons.
"This program has been possible thanks to the effort between private sector, government and the communities in Morelos. In this edition, we had the participation of 43 Bridgestone volunteers, who provided 418 man hours to the cause," said Daniel Benvenuti, President of Bridgestone Latin America North, BS-LAN.
During the ceremony, the Ministry of Sustainable Development gave recognition to executives of Bridgestone Mexico and representatives of the Ministry of Health in Temixco and Cuernavaca respectively, for the implementation of Llantaton program and their commitment to environmental care.
This initiative has received significant support from the municipalities of Ayala, Axochiapan, Cuernavaca, Jantetelco, Jiutepec, Temixco, Xochitepec, Yautepec and Yecapixtla in Morelos State. Furthermore, it was possible to achieve strategic alliances with Tracusa, as a responsible company for transportation of used tires collected; Cruz Azul Cooperative, company responsible for used tires disposal; and Plaza Cedros, Ex Hacienda Temixco and Teopanzolco Auditorium, which offered parking lots to install tire collection centers.
"In Morelos State, we are implementing a strategy for an Integrated Solid Waste Management, in which Llantaton represents an important initiative ensuring the correct disposal of used tires, thus preventing the proliferation of breeding sites for Dengue, Chikungunya and Zika," said Mr. Topiltzin Contreras MacBeath, Secretary of Sustainable Development,.
In addition, Mayor of Temixco, Irma Camacho, thanked the support received from the Ministry of Sustainable Development and Bridgestone Mexico for their commitment to the environment, and announced that Temixco will have a permanent collection center where citizens will be able to deliver used tires, thus preventing blockages in streets, gullies or rivers.
It is through Llantaton program and other activities that Bridgestone Mexico reinforces its commitment to ensure a healthy environment to the present and future generations.