Dec 6, 2016 Mexico City, Mexico
Bridgestone And Save The Children Foundation Celebrate The International Volunteer Day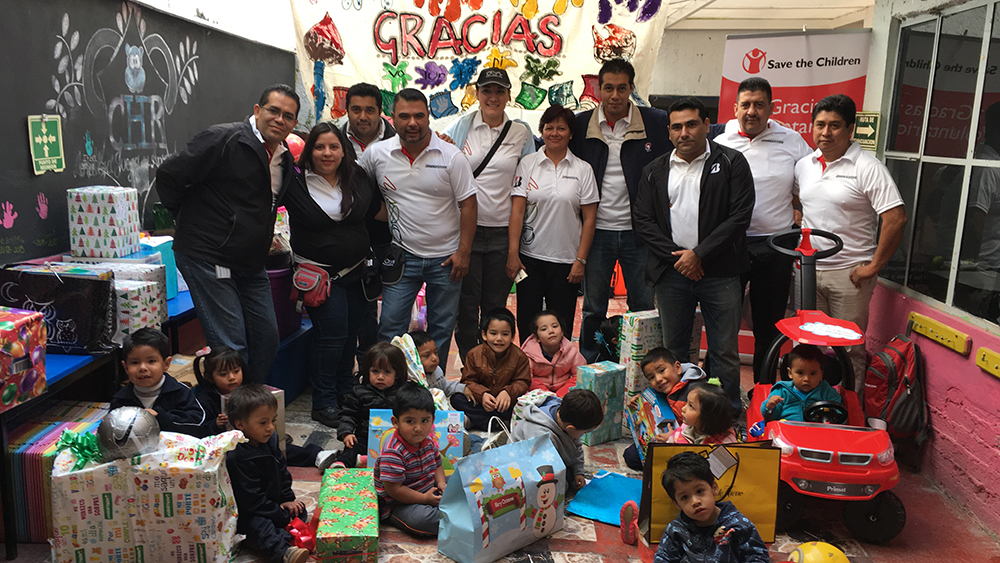 While commemorating volunteer day, four classrooms were refurbished, toys and groceries were delivered, benefiting more than 70 families.
Bridgestone, the world leader in tire manufacture, aware of the importance for children to have, educational and nutritional support, as well as to encourage recreational activities, have joined Save the Children Foundation in December to commemorate the International Volunteer Day.

The company and volunteers visited two Community Centers for Child Development (CCDI) "Wippo" and "Tren de la Infancia", located in the south and east area of Mexico City, with the purpose of carrying out actions in benefit of children and their families.

Among the activities carried out, volunteers delivered toys to children, groceries to their families, in addition of contributing to the refurbishing of four classrooms, benefiting more than 70 children and their families.

"At Bridgestone, we are aware of the importance of nutrition and recreation when educating children in order to develop adults who will be beneficial to the community. Therefore, we annually celebrate this strategic alliance with Save the Children Foundation, in order to support children and their families by improving their living conditions," said Gabriel Pichardo, Country Manager of Bridgestone Mexico, when participating at the volunteer activity.

Meanwhile, Eduardo Ochoa, Sales Director of Bridgestone Mexico and promoter of this annual initiative for Mexican children, mentioned; "we will continue working with children in our communities, not only by creating the Bridgestone Christmas program, but also by carrying out activities where children can have leisure time, expecting to reach and support more institutions."

At the annual volunteer journey, 25 employees visited both CCDIs to play and participate in activities prepared by the children and teachers. Bridgestone volunteers invested 87 hours, delivering 80 grocery packages, more than 80 toys and contributing to the refurbishment of four classrooms.

Bridgestone seeks to create a positive impact on children, their families and the community, addressing the real needs of the population and keeping its promise to Serve Society with Superior Quality.