Jul 6, 2015 LYNCHBURG, Tenn.
Motlow College Foundation Recognizes Bridgestone Americas Tire Operations for Support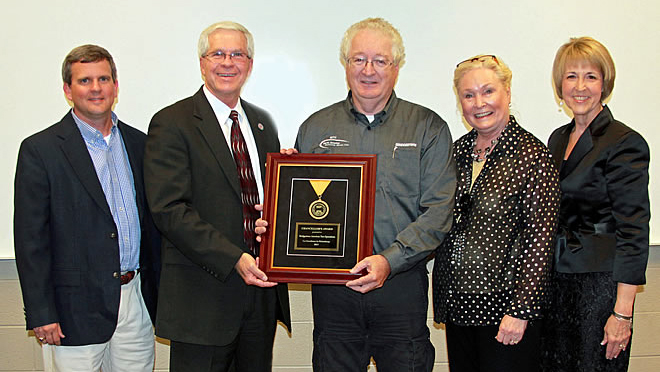 Bridgestone recognized by Motlow College Foundation with Chancellor's Award The Motlow College Foundation recently held a meeting at the college's Moore County Campus where they presented Bridgestone Americas Tires Operation with the Chancellor's Award for Excellence in Philanthropy. Pictured, from left, Daryl Welch, chair of the Foundation; Warren Nichols, vice chancellor of the Tennessee Board of Regents; Keith Hamilton, corporate manager of the North America Manufacturing and Education Center for Bridgestone Americas Tire Operations in LaVergne; Fran Marcum, TBR regent and Foundation Trustee; and Dr. MaryLou Apple, president of Motlow College.
Bridgestone Americas Tire Operations received the Chancellor's Award for Excellence in Philanthropy at the biannual meeting of the Motlow College Foundation Board of Trustees on June 5, 2015.
Bridgestone spent nearly $4 million renovating and building the North American Manufacturing Education Center (NAMEC) Building and BANDAG Training facility. As part of the construction process, they carved out 2,200 square feet of space for Motlow College to use.
Bridgestone also provides 'in-kind' support to the Motlow mechatronics program by coaching/mentoring students. In addition, Bridgestone Americas' tire manufacturing facilities in Warren County, Tenn., and LaVergne provide intern opportunities for students to gain hands-on experience while completing their degrees.
The Chancellor's Award for Excellence in Philanthropy was created in 2002 to honor those who give generously of their time and finances to a Tennessee Board of Regents (TBR) institution and exemplify outstanding volunteer efforts in raising money for a TBR institution. Bridgestone was selected for just those reasons, according to Dr. MaryLou Apple, president of Motlow College.
Apple said all of these efforts have assisted Motlow in meeting the goals of the Complete College Tennessee Act of 2010 to provide access for more citizens of Tennessee to obtain the skill sets required to enter or be retooled for the workforce.