Oct 26, 2015 MEXICO CITY
Kuchar And Hueber, Champions of the Bridgestone America's Golf Cup in Mexico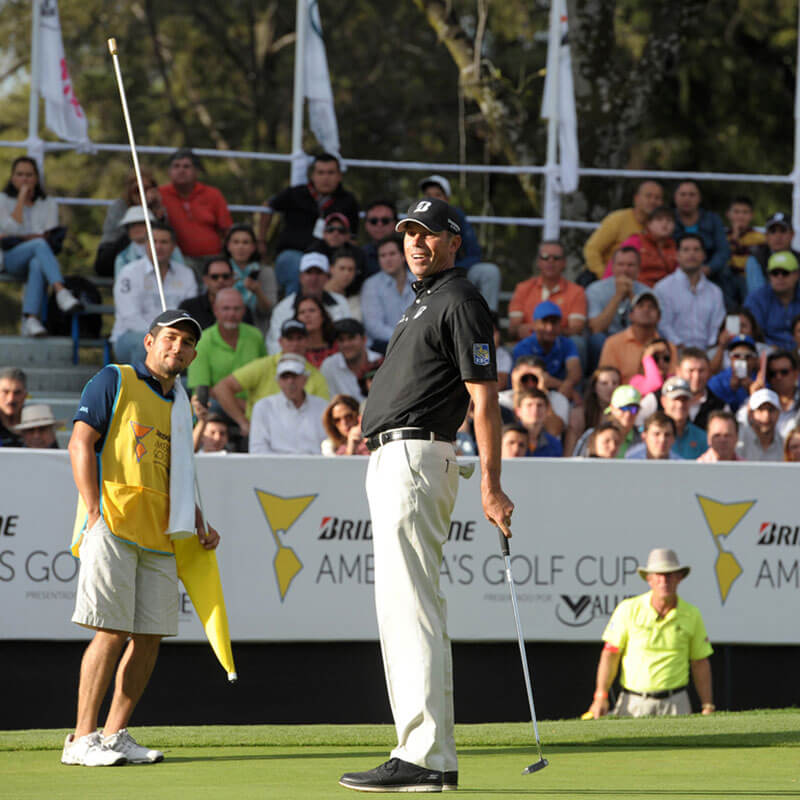 Bridgestone is present at major sporting events, such as the Bridgestone America's Golf Cup, as we share values of competitiveness, discipline and commitment found in top sporting events.

Daniel Benvenuti, President of Bridgestone Latin American North
American golfer and Bridgestone Golf ambassador, Matt Kuchar, has won the second edition of the most important tournament in Latin America, taking place at the Club Campestre Club in Mexico City.
Birdie after birdie, showing what makes him one of the best players in the world (currently 13th in the Official World Golf Rankings), Matt Kuchar and his partner Justin Hueber positioned the United States on the top of the leaderboard of Bridgestone America's Cup Golf presented by Value (PGA TOUR LA).
The Americans gave a master class in the final round, finishing with a score of 60 (-11), and a tournament total of 250 (-34), winning the second edition of the championship at the Club Campestre of Mexico City.
Matt Kuchar was grateful to play this tournament in Mexico, "I'm very happy. The organization has done an excellent job arranging this great tournament and playing in Mexico has been a pleasure. I would love to come back," he added.
In second place was the Puerto Rican team of Rafael Campos and Edward Figueroa who finished at 254 (-30) after an extraordinary final round of 61 (-10).
There was a tie for third place, with the teams of Colombia (Marcelo Rozo and Manuel Merizalde, 60 on Sunday) and Canada (Taylor Pendrith and Corey Conners, 63) each finishing at 255 (-29).
Of the hometown Mexican teams, the top finishers were Sebastian Vazquez and Juan Pablo Solis, who signed in at 68 (-3) on Sunday and 260 (-24) for the tournament, finishing in tenth place.
Presenting the trophy to the champion team this year was Daniel Benvenuti, President of Bridgestone Latin American North (BS-LAN) who congratulated Matt Kuchar (Bridgestone Golf global ambassador) and Justin Hueber: "They played like true champions."
"Bridgestone is present at major sporting events, such as the Bridgestone America's Golf Cup, as we share values of competitiveness, discipline and commitment found in top sporting events. Like elite golfer Matt Kuchar, Bridgestone exemplifies performance."
Lisandro Borges, CEO of Bridgestone America's Cup Golf presented by Value said the event was a success, especially among the Mexican audience.
"This has been a perfect week, a tournament which exceeded all expectations, thanks to the support of the sponsors, of Bridgestone and Value, and also the Club, the Federation, the PGA TOUR LA and all and everyone involved in the tournament," Borges said. "When a country welcomes us as if it were our home, we can only be fully grateful, and that is how Mexico received us. Simply put, 'thank you' to all involved," concluded the CEO.
The second edition of Bridgestone America´s Cup presented by Value Golf was played with the format of 72-hole Four-ball (Best Ball), and 30 teams (60 players) representing 19 countries participated this year. The most prestigious team event in Latin America is part of calendar 2015 PGA TOUR LA and awards a purse of $300,000, one of the largest in the region.
To see the final results, visit http://www.pgatour.com/la/en/leaderboard.html.