Nov 18, 2015 Buenos Aires
Bridgestone Recognized as Great Place to Work in Argentina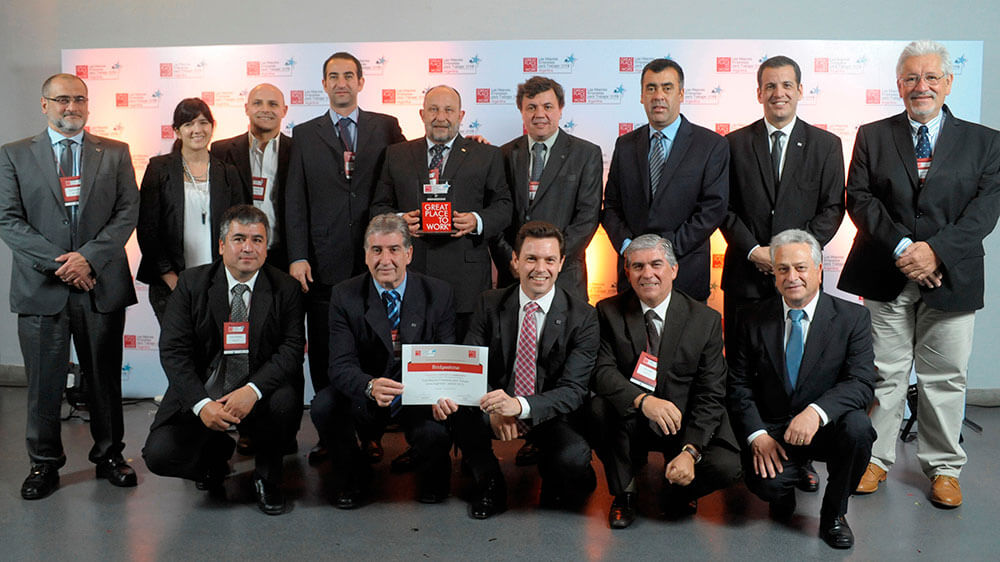 Thanks to its mission, Bridgestone is a company that provides employees with the best tools to develop both personally and professionally.

Agustín Pedroni, President, Bridgestone Argentina
The company ranked sixth among companies with more than 1,000 employees
Bridgestone, the world's largest tire manufacturer, has been recognized among the Greatest Companies to Work in 2015 by Great Place to Work® due to its daily commitment to its teammates in Argentina.
This year, approximately 115 companies participated, representing more than 87,000 employees. The awards ceremony took place on Tuesday, November 17 in La Usina del Arte, with the attendance of top executives from the nominated companies and a group of interested contributors and organizations.
"At Bridgestone Argentina, we are very proud of this acknowledgement. It is the result of our team's efforts and commitment to making Bridgestone a premier place to work, which is one of our company's pillars," said Carlo Saco, Director of Human Resources and Corporate Affairs, Bridgestone Argentina.
Bridgestone aims to attract and retain the best teammates and to develop their skills. It is due to this quest that the company has been recognized as a Best Company to Work. Bridgestone's mission, "serving society with superior quality," encourages the company to provide reliable products and services that allow teammates to take pride in their contributions to society.
The opinion of employees is key to qualifying for the award, as the survey response (Trust Index®) represents two-thirds of the final score to enter the ranking. The remaining third consists of the Culture Audit®, a questionnaire completed by the company that Great Place to Work uses to better understand and assess the organization's policies and philosophy.
"Thanks to its mission, Bridgestone is a company that provides employees with the best tools to develop both personally and professionally. Teamwork, candor and constant innovation are part of the rules of the road and key factors that allow us to create opportunities for employees and focus on satisfying final users of our products, who are ultimately our real 'BOSS'," added Agustín Pedroni, President, Bridgestone Argentina.
Bridgestone Argentina continues to work towards the integration of its employees and their families, and to encourage other companies to transform the work environment through example.
For more information, please visit: www.bridgestone.com.ar