Nov 23, 2015 Leon City, Guanajuato, Mexico
Bridgestone Bandag Manufacturing Plant Recognized as Clean Company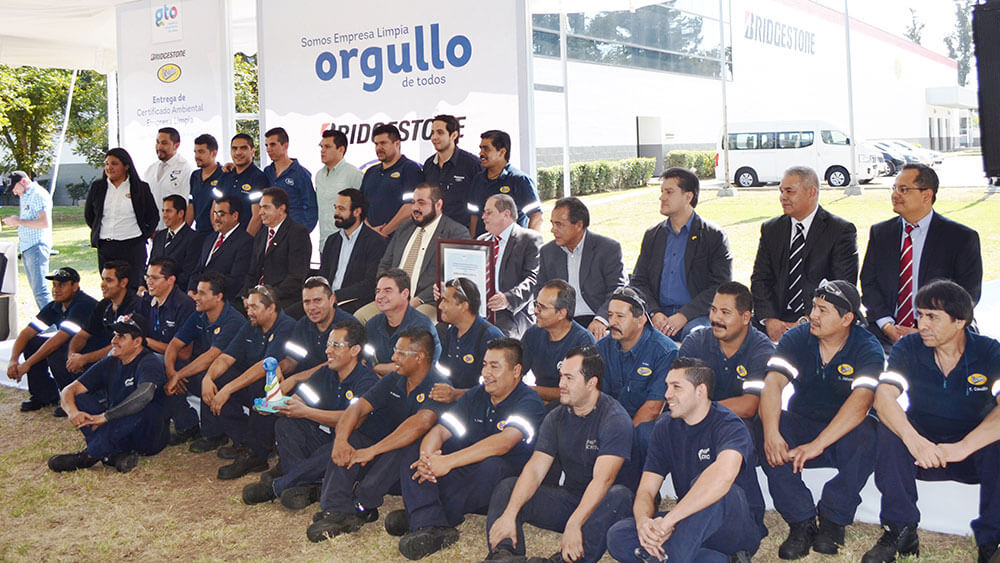 Clean Company Environmental Certification delivered by the Environmental and Land Use Attorney of Guanajuato State
Bridgestone Bandag manufacturing plant for tire-retread products located in Leon City, Guanajuato State, has been awarded the Clean Company Environmental Certification. Recognition is granted by the Environmental and Land Use Attorney of Guanajuato State thanks to its excellent management and commitment to environmental stewardship.
The award ceremony took place at the premises of Bridgestone Bandag's manufacturing plant, chaired by Emiliano Galvan Corona, Technical Coordinator of the Environmental Agency, who presented the award to Manuel Calzada Rebolledo, Manufacturing Director of Bridgestone Bandag.
The company earned the certification as a Clean Company after achieving diverse goals aim to the care of the environment during 2014, among them:
30 percent reduction of energy consumption in the vulcanization process
1.5 percent reduction in electricity consumption per ton produced
Reduction in water consumption by 8 percent per ton of production
The company also replaced the use of fuel oil by natural gas in production processes and has also reached the recycling goal of 99 percent, which means that only one percent of waste is being sent to landfills.
Company objectives are based on the three-part strategy of Environmental & Cost Savings of Bridgestone Mexico: (1) to be in harmony with nature, (2) value natural resources, and (3) reduce CO2 emissions.
Bridgestone Bandag has been named for second consecutive year as a Socially Responsible Company, granted by the Mexican Center for Philanthropy; it has met the certification process of Neutral Carbon granted by the government of Guanajuato State; and for six years it has ratified the ISO 14001 certification. Additionally, the company is in the process of receiving the Clean Industry Certification granted by the Federal Secretary of the Environment (SEMARNAT) nationwide.
"Achieving the certification as a Clean Company goes beyond Bridgestone Bandag's compliance with the law. As an organization, we seek to be number one in all our areas, from providing high-quality products to ensuring that our processes minimize affects on the environment," said Manuel Calzada, Manufacturing Director for Bridgestone Bandag in Mexico.
Clean Company Environmental Certification seeks to promote social responsibility in environmental issues of industries established in Guanajuato State. It is through documented and periodic audits in the field that the company has performed this assessment based on the protection of the environment, in addition to complying with applicable regulations in force in the state.
Bridgestone Bandag works constantly in promoting sustainable social awareness, to ensure a healthy environment for present and future generations; thus the Clean Company Certification reaffirms company's ongoing commitment to preserve the environment.