Dec 1, 2015 NASHVILLE, Tenn.
Bridgestone Americas Continues Commitment to STEM Education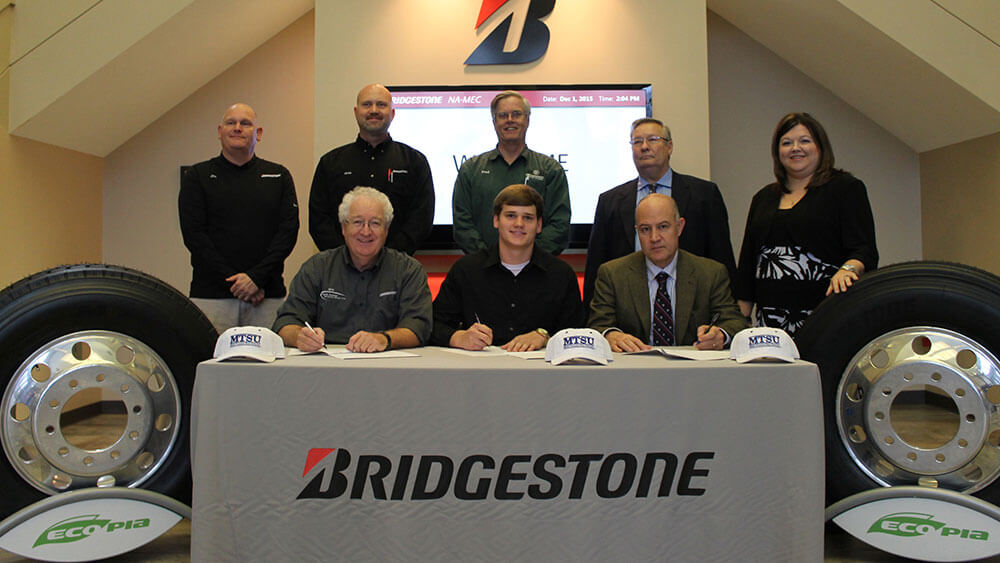 Company works with local colleges and universities to provide high-skill experience
Bridgestone Americas (Bridgestone) today hosted an intern agreement signing with Middle Tennessee State University (MTSU) at the company's North America Manufacturing and Education Center at the Bridgestone Americas Tire Operations LaVergne Plant, signing student Jacob Dean to become a paid intern dedicated to mechatronics.
Jacob began studying Mechatronics while he was a senior at LaVergne High School, dually enrolled in Motlow State Community College, from where he is now graduating, and transferring to MTSU as a mechatronics engineering student. MTSU is the first university in the country to offer a Bachelor's in Mechatronics Engineering, and Jacob will be the first student to start mechatronics in high school as a dually enrolled student, continue to community college, and then enroll in the university and be selected to work in the industry as an intern.
Mechatronics is a multidisciplinary field of engineering that includes a combination of systems engineering, mechanical engineering, electrical engineering, telecommunications engineering, control engineering and computer engineering. Motlow State Community College expanded their mechatronics program and partnered with Bridgestone to create a training facility on-site at Bridgestone to prepare students to move quickly into high-skill jobs.
On June 5, Bridgestone received the Chancellor's Award for Excellence in Philanthropy at the biannual meeting of the Motlow College Foundation Board of Trustees for its contribution of nearly $4 million renovating and building the North American Manufacturing Education Center (NAMEC) Building and BANDAG Training facility. As part of the construction process, they carved out 2,200 square feet of space for Motlow College to use. In addition, Bridgestone Americas' tire manufacturing facilities in Warren County and LaVergne provide intern opportunities for students to gain hands-on experience while completing their degrees.
For more company news, visit BridgestoneAmericas.com.