Oct 24, 2013 Nashville, TN
Bridgestone Commercial Solutions Introduces New V-Steel Super Deep Rock Premium Radial Tire
Available in two sizes to support mining and waste operations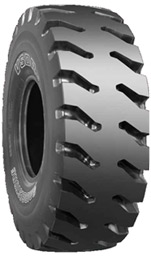 Bridgestone Commercial Solutions, a business of Bridgestone Americas Tire Operations, today announced the addition of a new radial tire to its mining portfolio of products. The V-Steel Super Deep Rock (VSDR) premium radial tire is designed to meet the rugged, tough demands of mining and waste operations. The new radial tire features an improved tread design and more tread volume for long life, and comes in a 20.5R25 1* rating and in a 2* rating for loaders and dozers.
"Customer feedback guides and drives us to create better, smarter tires that meet end-user needs and the new VSDR premium radial tire is a result," said Bert Jones, Manager, Product Marketing, TBR, Retread and OTR, Bridgestone Commercial Solutions. "We took the popular V-Steel D-Lug (VSDL) off-the-road radial tire and improved tread wear capability. When compared to the VSDL, the tread wear of the new VSDR improves up to six percent, depending upon application."
Engineered to withstand various mining terrains, the 1* rating is designed for use on rock surfaces found in open pits and quarries, as well as paved surfaces for the demands of waste applications. The 2* rating is ideal for use in underground operations.
Additional tire features include the following:
Multi-ply steel belts and a unique shape to help protect tread and sidewall from cuts
Extra-deep tread that helps resist cuts and impacts for long life
The V-Steel Super Deep Rock premium radial tire is available now through authorized Bridgestone dealers.