Sep 9, 2013 Nashville, TN
Bridgestone Americas Tire Operations Launches BATTLAX SPORT TOURING T30 Series Motorcycle Tires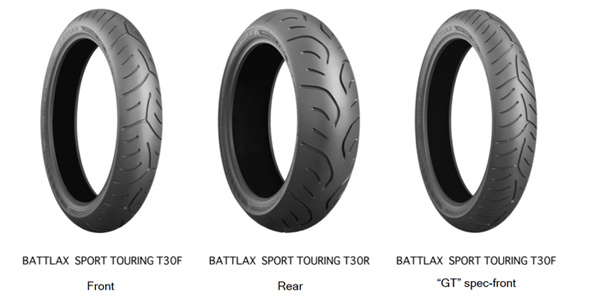 Engineered for smooth handling, maximum performance and rider comfort
Bridgestone Americas Tire Operations (Bridgestone Americas) today announced the launch of the BATTLAX SPORT TOURING T30, a series of radial motorcycle sport touring tires. The BATTLAX series features an extensive lineup that includes touring to racing patterns developed with Bridgestone MotoGP tire technology.
The BATTLAX SPORT TOURING T30 is a versatile and premium tire, designed for use in a broad range of temperatures and weather conditions. Constructed for rider enjoyment by providing improved handling and dry grip (compared to previous BT-023), the series features:
New tread patterns providing light and responsive handling
A new front tire rubber compound using RC Polymer/NanoProTech technology to maximize grip and stiffness
Optimum contact patch and linear response inspiring confidence in cornering
A "GT" spec provides good handling & stability for large, heavier touring bikes using:
Modified tread pattern on front tire to match different belt construction
Cross belt construction to aid stability on front
Stiffer construction to offer good support on rear
"The new series of BATTLAX SPORT TOURING T30 tires are designed to provide a unique riding experience refined through our development of MotoGP race tires," said Kevin Hunley, Senior Manager, Bridgestone Americas Tire Operations. "Our focus continues to be on developing innovative solutions and technology to provide quality high performance motorcycle tires to this growing segment."
The Bridgestone BATTLAX SPORT TOURING T30 is the first tire wearing the new 'T' designation for "Touring". Bridgestone now uses T for "Touring", S for "Sport" and R for "Race" to more clearly position its extensive range of Battlax Tires. The T30 comes in 6 sizes for front use and 8 sizes for rear use.