Aug 29, 2012 Nashville, TN
Bridgestone Americas Unveils Firestone Brand Agriculture Tire Manufactured with 10 Percent Soybean Oil
Concept tire lays foundation for future use of soy oil in agricultural tire manufacturing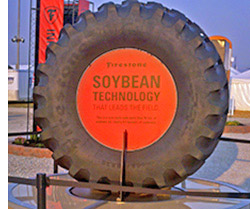 Bridgestone Americas Tire Operations (Bridgestone Americas) revealed a new concept tire containing more than 10 percent soybean oil at the Farm Progress 2012 Show in Boone, Iowa. The 900-pound farm tire is marketed under the Firestone brand of agricultural tires and contains approximately 90 pounds of soy oil. The typical application for the 800/70R38 Radial Deep Tread 23 tire being displayed is on large four wheel drive tractors where eight tires are used.
"The soybean oil has replaced all the different petroleum-based processing oils used in the tire's compounds," said Tom Rodgers, director of sales & marketing at Bridgestone Americas. "Engineers and compounders from our Americas Technology Center, and also the company's Des Moines agricultural tire plant, have been working on this concept tire project for several months. Based on the progress of the project, we expect to begin incorporating soy oil into some of our agricultural tires by early 2013. Our goal is to have soy oil as a component in all of our agriculture tires by the end of 2013."
2012 marks the 80th anniversary of Harvey Firestone's introduction of the first pneumatic tire specifically for agricultural use. This innovation is the latest example of how the Firestone brand has continued to build on the heritage, tire technology and innovation that has revolutionized farming.
Rodgers adds, "Any opportunity to enhance the value of the commodities our customers produce is a win for the industry. It's exciting to have the opportunity to be a customer of our customers, and we are confident that the innovation of using soy oil in our tires is a positive for the global food market."
Through soybean processing, one bushel of soybeans yields approximately 11 pounds of soy oil. The concept tire on display used roughly eight bushels of soybeans to yield the 90 pounds of soy oil. Soy meal and soy oil are the primary yield in processing soybeans. Soy meal is a key ingredient in pork and poultry feed as a protein additive, and is the driver of demand in processing. Soy oil runs in excess of meal and, typically, any additional use of the oil helps to balance the cost of soy complex, driving meal and feed prices down.
In 2011, Bridgestone Corporation released a new Environmental Mission Statement. One of its three main objectives is to continually improve natural resource conservation through operational improvements and product design. The company continues to work to expand the range of renewable resources it uses in the production of tires and other rubber products with a long-term vision of using 100 percent sustainable materials by 2050. Learn more athttp://www.bridgestone.com/responsibilities/environment/.