Jun 6, 2011 Nashville, TN
New Jersey Youth Coach Named Winner Of The 2011 Bridgestone Mark Messier Youth Leadership Award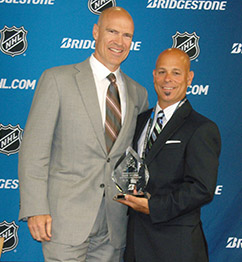 For his two decades of exemplary dedication to helping young people through the sport of ice hockey, Alex DePalma of Brick, N.J has been selected as the recipient of the 2011 Bridgestone Mark Messier Youth Leadership Award.
DePalma is recognized for his stellar work as mentor/coach who uses hockey to "reach, teach and mold kids," and is the founder of the Brick Stars Challenger Ice Hockey program which enables special needs children experience the joy, competition and teamwork that are such unique parts of playing hockey.
The Bridgestone Mark Messier Youth Leadership Award was created to reward youth hockey players or mentors for their leadership and contributions to youth sports or education. Nominations were received for the award from across the United States and Canada. The award, which includes a $5,000 grant from Bridgestone Americas Tire Operations, will be presented to Coach DePalma on Monday, June 6 in Boston by hockey legend Mark Messier before Game 3 of the Stanley Cup® Final.
"Once again, I was incredibly impressed with the quality of the nominations we received for this award," Messier said. "It's always a tough decision, but Coach DePalma really stood above the rest. On top of his numerous awards and appointments, he created the Brick Stars Challenger program and turned it into the fastest growing ice hockey program for special needs children in the state of New Jersey. He gives hope and happiness to children, some of who could barely walk, let alone skate, before they became a part of his program. Coach DePalma is most deserving of this award."
In addition to the Brick Stars program, Coach DePalma is currently the New Jersey Youth Hockey League (NJYHL) coaching director, USA Hockey ADM representative for the Atlantic District and an instructor with the USA Hockey coaching program. DePalma instills in his players the values of fair play, hard work and the importance of giving back to the community. Additionally, USA Hockey has previously recognized DePalma with numerous appointments, including 2009 Atlantic District Associate Coach in Chief and a five-year-running Outstanding Service Award. All of these recognitions aside, DePalma insists that his most notable achievement to date is that no player has ever quit on him. Adding to his legacy, James van Riemsdyk, who played for DePalma's teams from squirts to midgets, was drafted second overall by the Philadelphia Flyers in 2007.
"When I received the news that I had been selected to receive the 2011 Bridgestone Mark Messier Youth Leadership Award I was both stunned and extremely humbled," DePalma said. "The personal satisfaction I have received from helping others to meet and exceed expectations has been reward enough. To now be publically recognized by Bridgestone and Mark Messier, one of the greatest leaders in all of sports, for the reward and satisfaction I have already received from my involvement in youth hockey is beyond belief. I am proud to accept this award on behalf of the many past and current players/coaches of the Brick Hockey Club, U.S.A. Hockey Coaching Staff and the brave and hardworking players and families of our Challenger Ice Hockey program who underscore that hockey is truly for everyone."
"Congratulations to Alex, he is truly a deserving honoree," John Baratta, President, N.A. Consumer Replacement Tire, BATO. "The Brick "Stars" name is appropriate for Coach DePalma's program, as he is a shining example of commitment to improving the lives of children through ice hockey. Hopefully, this $5,000 award will help him continue to grow the program and create more opportunities for children to participate."
The Bridgestone brand is also serving as title sponsor of The Mark Messier NHL Leadership Award Presented by Bridgestone, which recognizes an NHL player as a superior leader in hockey, and as a contributing member of society. The award honors an individual who leads by positive example through on-ice performance, motivation of team members and a dedication to community activities and charitable causes. This year the award will be presented at the 2011 NHL Awards™ in Las Vegas on Wednesday, June 22.