Jul 28, 2011 Nashville, TN
New Firestone-brand FS507 PLUS Radial Offers Superior Fuel Efficiency and Durability
Firestone FS507 PLUS is SmartWaySM-verified/CARB-compliant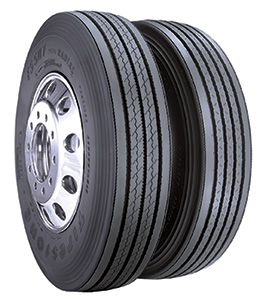 Bridgestone Commercial Solutions (BCS), a division of Bridgestone Americas Tire Operations, is launching the premium Firestone FS507® PLUS steer/all-position radial for superior fuel efficiency and outstanding dependability. The FS507 PLUS is approved for use on Environmental Protection Agency (EPA) SmartWaySM-dedicated equipment and complies with California Air Resources Board (CARB) rules.
"Fleets who rely on Firestone's superior cost per mile and value can run SmartWaySM-verified Firestone tires on every wheel position. Using the new FS507 PLUS steer, in combination with the FD695 PLUS drive and FT455 PLUS trailer tires offers some of the best fuel efficiency in the industry," said Bert Jones, Manager, Product Marketing, TBR, Retread and OTR, BCS.
Building on the proven performance of the FS507, the new FS507 PLUS adds advanced, fuel-efficient twin-layer tread and sidewall compounding for significantly lower rolling resistance and outstanding fuel economy.
With the top layer of its twin-layer tread formulated for longer wear, the FS507 PLUS promotes excellent mileage. The lower layer of the tread helps shield the casing from damaging heat for superior life and retreadability. Shoulder wear protector ribs minimize cupping and step-down wear while stress-relief sipes fight irregular wear and provide hundreds of biting edges to enhance traction.
For dependable performance and value, the FS507 PLUS uses a deep original tread and proven casing construction with four steel belts and an all-steel body ply. The FS507 PLUS is available in both low profile and 90-series sizes. The low profile tread pattern has five ribs and the 90-series four ribs. Both are available in "G" and "H" load ratings.
The Firestone FS507 PLUS steer/all-position radial was introduced to dealers and truckstops July 6. For more information, ask your BCS sales representative, your dealer or truckstop operator or visit Firestonetrucktires.com.
SmartWay is an innovative, voluntary partnership of the EPA that reduces greenhouse gases and improves fuel efficiency in the nation's trucks and railroads. This voluntary program helps fleets make the right choices when specifying for optimum fuel efficiency – including recommendations for replacement tires.
The EPA verifies low rolling resistance tires achieving at least three percent better fuel economy than the average, "best selling" new tire. Fleets participating in the SmartWay partnership must use tires approved by the EPA to maintain their SmartWay status. For information on becoming a SmartWay fleet, go to www.epa.gov/smartway.