Jun 16, 2011 Nashville, TN
Bridgestone Recognizes Company Innovators at 32nd Inventors Event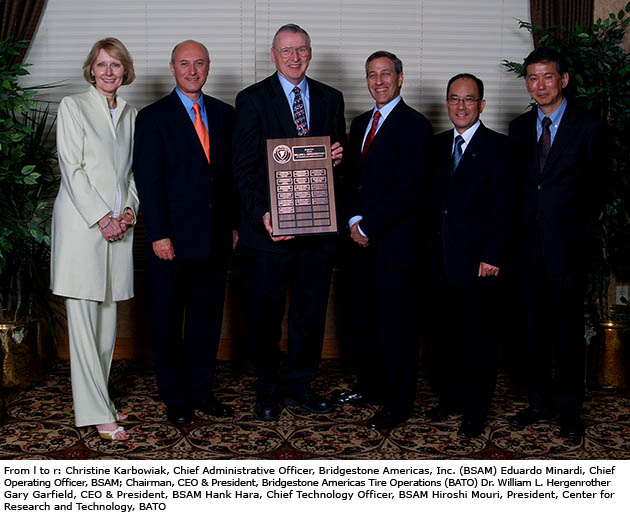 86 teammates honored for work on 74 U.S. patents issued in 2010 Inventors Event
Eighty-six Bridgestone Americas teammates were recently recognized for their innovative work at the 32nd Annual Bridgestone Americas Inventors Night in Akron, Ohio.
The work of the teammates honored resulted in 74 United States patents being issued in 2010 and the development of numerous trade secrets. The 74 patents originating from the BSAM entities located in Akron, Carmel, Muscatine, and Nashville, would rank BSAM in the top 300 organizations in the world to be granted US patents according to the Intellectual Property Owners annual rankings. Bridgestone Corporation received more patents in 2010 than any other major tire and rubber company.
"Inventors by definition are leaders, not followers," said Gary Garfield, CEO and president of Bridgestone Americas, Inc. "And it is with the leadership and creative drive of the people present in this room this evening that we will continue to pursue our goal to be the clear technological leader in our industries."
Akron, Ohio is home to the Bridgestone Americas Akron Technical Center, where new tires and tire technologies are developed for the company's consumer, commercial, OTR, agriculture and racing businesses.
Highlights of the event included Dr. William L. Hergenrother being recognized for his 179th U.S. patent for the company, the largest number held by any current employee. He earned seven patents in 2010 for technologies ranging from eco-friendly tire polymers to polymers used to improve the performance of asphalt for roads and highways.
Seventeen inventors were honored for their first patent this year, including Dr. Yaohong Chen who was honored for her patent directed to functionalized polymers, and Al Speyer, Executive Director of Bridgestone Americas Motorsports for his invention directed to a device for visually demonstrating stagger, which was highlighted on ABC's coverage of the Indianapolis 500. Jon Stuckey, who was honored for technology that reduces tire noise, was also recognized for his work with the MINDDRIVE Program with at-risk students from Kansas City.
"Innovation requires constant creativity," concluded Garfield. "We pride ourselves in being a technology company that sells innovative tires, air springs, building materials and more. And it will take the combined efforts of both veteran and new inventors alike to help our company continue to provide cutting-edge products and technologies to our varied consumers. But with the team assembled here, I know we are up to the task."