Mar 21, 2011 Nashville, TN
Bridgestone Corporation Named Supplier of the Year by General Motors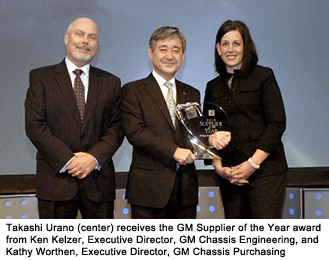 Bridgestone Corporation and its global family of companies, including Bridgestone Americas, Inc. (BSAM), is the proud recipient of the General Motors (GM) Supplier of the Year Award for overall performance in providing GM with parts and services. The 19th annual awards ceremony was held Thursday, March 10 at GM World Headquarters located at the Renaissance Center in Detroit, Mich. Takashi Urano, Vice President and Senior Officer of Bridgestone Corp., accepted the awarded on behalf of the Company. This is the thirteenth time Bridgestone Corporation has been given the award.
"To be given this award more than a dozen times is a great honor," said Gary Garfield, CEO and President, Bridgestone Americas, Inc. (BSAM). "Making sure our company provides world-class quality products to our customers is of the upmost importance and we will continue to provide GM with the high quality tires and services it has come to expect from Bridgestone Corporation."
The Bridgestone Group supplies tires to GM plants worldwide. In North America, Bridgestone Americas supplies Bridgestone and Firestone-brand tires for application on all four of GM's vehicle badges – Chevrolet, Buick, GMC, and Cadillac. Bridgestone Group companies also supply tires to GM facilities and subsidiaries in Brazil, Venezuela, Europe, Australia, India, Thailand, South Africa, China, and South Korea.
The GM Supplier of the Year award began as a global program in 1992. Winners are selected by a global team of executives from purchasing, engineering, manufacturing and logistics who base their decisions on supplier performance in four areas: Innovative Technology; Superior Quality; Outstanding Launch Support; and Competitive Total Enterprise Cost Solutions. As stated by Bob Socia, GM Vice President for Global Purchasing and Supply Chain, "We believe the Supplier of the Year Award is a top honor in the industry. These suppliers are a critical part of our effort to design, build and sell the world's best vehicles." This year, General Motors honored 82 suppliers for their outstanding performance throughout 2010 out of the 20,000 suppliers eligible for the award.