Sep 27, 2019 Nashville, Tenn.
Maplewood High School Automotive Training Center students visit Bridgestone Tower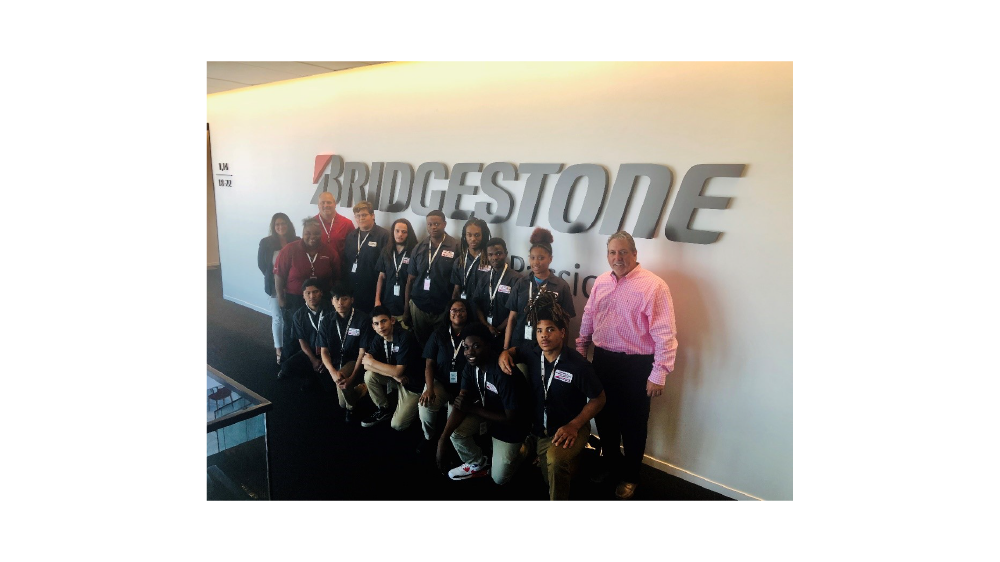 On September 25, students from Maplewood High School's Automotive Training Center and their instructor, Twjauna Williams, visited and toured Bridgestone Tower. The students had the opportunity to hear and learn from Chris Karbowiak, Chief Administrative Officer, Chief Risk Officer, Executive Vice President and Vice Chair, BSA; Joe Venezia, President, Bridgestone Retail Operations (BSRO); Chuck Bowles, Region Manager, BSRO; Karla Salomon, Data Governance Manager, Shared Services; and Dominic Latello, Finance Director, GCR.

The Maplewood High School Automotive Training Center is a public-private cooperation between Bridgestone and Metropolitan Nashville Public Schools to benefit Nashville education. Since the beginning of the collaboration in 2015, Bridgestone has hired 37 Maplewood graduates as store employees and 36 as interns at Firestone Complete Auto Care locations in the Nashville region.

The facility allows students to gain hands-on experience and knowledge of how an automotive facility operates. Bridgestone Americas supports the program through volunteer hours, including classroom presentations, onsite training, Maplewood Advisory Board membership and assistance with making the curriculum ASE-certified. Students in the Academy of Entrepreneurship & Innovation have the opportunity to graduate as licensed technicians by gaining the necessary two years of experience and are may be eligible to earn up to three college credits in maintenance and light repair through dual enrollment at Nashville State Community College or Volunteer State Community College.