Mar 6, 2019 Nashville, tenn.
Firestone Complete Auto Care store manager volunteers at local school and shares industry insights with kindergartners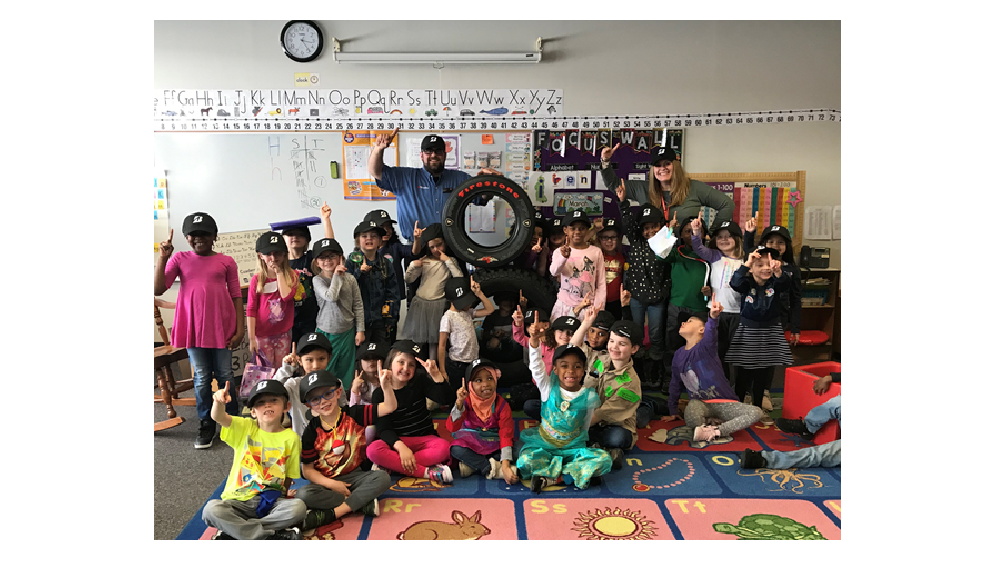 On Friday, March 1, Sean Salisbury, Store Manager for Firestone Complete Auto Care in Bellevue, Nebraska, spent time in a kindergarten classroom at Westbrook Elementary School in nearby Omaha. He was their guest reader in celebration of Read Across America and he was also asked to share a little about his job.
Sean brought two tires to show the class. One was big enough for the kids to sit in (which they did) and the other was an ultra-high performance Firehawk Indy 500 tire. Several of the students recognized the Firestone brand and one girl called out, "My mommy goes there!" Sean, himself the father of a 7-year-old, explained the importance of automotive service in terms they could understand.
"It's like your education. You have to practice reading and writing and do your homework to do well in school. If you have a car, your mom or your dad or your grandpa or somebody has to take care of it so they can drive you to school or the doctor or wherever you need to go. That's what we do at Firestone. We help people take care of their cars and, when something breaks, we fix it so they can go to work and drive their kids places."
Westbrook Elementary hosts a Boy & Girls Club in the school building and most of the kindergartners are members. Sean and his store team are also engaged with the Boys & Girls Clubs of America (BGCA) through the Bridgestone Retail Operations (BSRO) Driving Great Futures partnership. After talking with and reading to the kids, Sean was happy to walk them down the hall to their after-school Club activities. "I really enjoy working with kids and look forward to many more interactions in the classroom and in the Club," he said afterward.
Read Across America, sponsored by the National Education Association (NEA), is an annual reading motivation and awareness program that calls for every child in every community to celebrate reading in March, the birthday month of beloved children's author Dr. Seuss. Read Across America also provides NEA members, parents, caregivers, and children resources and activities to keep reading on the calendar 365 days a year. Supporting the education and development of children in the communities in which we live, work and play aligns with the People priority area of Our Way to Serve.