Apr 25, 2019 Nashville, Tenn.
Firestone Complete Auto Care in Corpus Christi, Texas donates tires to local Boys & Girls Club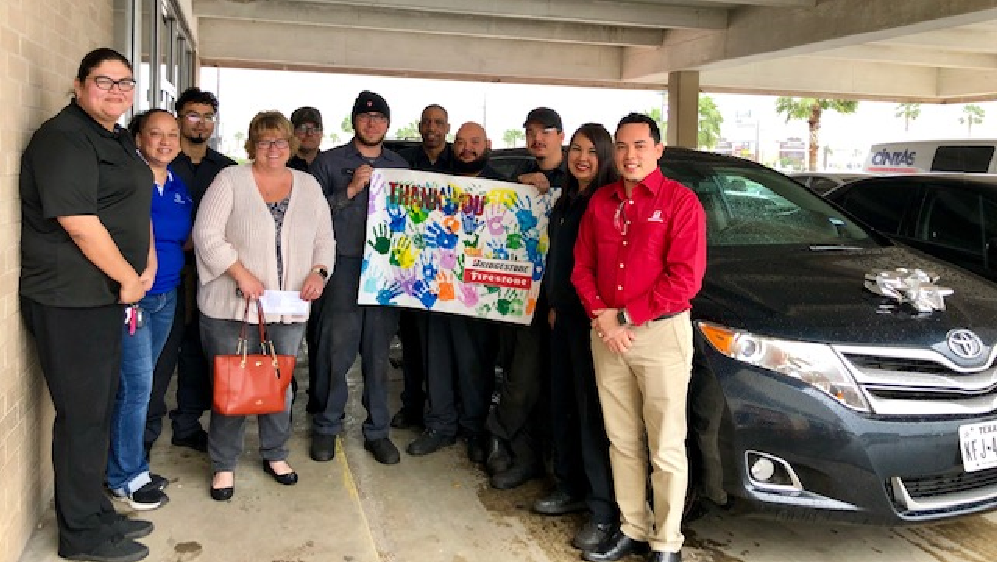 Through its partnership with Boys & Girls Clubs of America (BGCA), Bridgestone Retail Operations (BSRO) provides transportation grants to help Clubs purchase new vans and repair and maintain their existing fleet of vehicles. Some BSRO store locations go a step further and provide free or deeply discounted tire and automotive services to their local Clubs.

On March 15, the Padre Staples Firestone Complete Auto Care store team, led by Store Manager Monique Uribe, donated a set of Bridgestone Ecopia EP422 tires to the Boys & Girls Clubs of Coastal Bend. This local Club, which serves Corpus Christi, Texas, found itself in urgent need of new tires for its Toyota Venza and reached out to the Padre Staples store for a courtesy check. While the Club was not expecting free or discounted service, the store team and the Area Manager collectively decided to replace the tires free of charge.

The store team personally delivered the vehicle to the Club CEO during EPIC, the 4-day sales event that BSRO holds every quarter. They were joined by Roxanne Jasso, a manager from a nearby store, who grew up as a Boys & Girls Club kid. Roxanne helped the team hand over the keys to the Club CEO.

"I would like to thank the leadership team of the Boys & Girls Clubs of Coastal Bend for all that they do in the communities in which we live and work," said Christian Castaneda, Area Manager, Corpus Christi. "They provide a world-class club experience to young people every single day. On behalf of the store team, it was truly our pleasure to be able to help with this small donation."

The new Bridgestone Ecopia tires will help the Club with the more than 3,000 youth it serves annually.

BGCA provides high-impact out-of-school programs to ensure success is within reach of every young person who enters the Club doors. Aligning with the People Priority Area of Our Way to Serve, BSRO store teammates have raised more than $7.6 million for BGCA through the Driving Great Futures program since 2015.