Apr 22, 2019 Nashville, Tenn.
Bandag awards Mulberry Elementary School with Classroom of the Quarter grant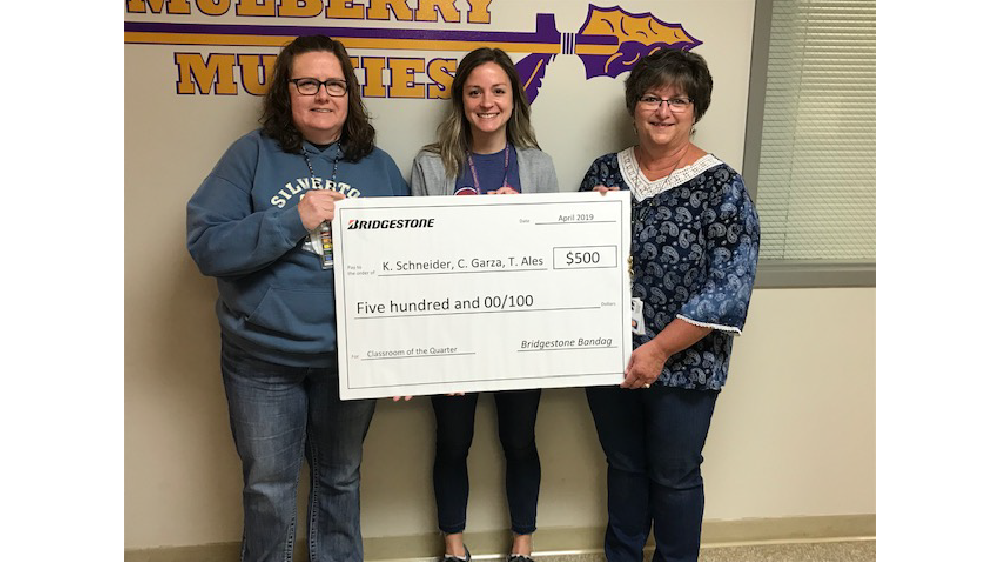 ​The Bridgestone Bandag location in Muscatine, Iowa, recently awarded Kim Schneider, Cate Garza and Tammy Ales of Mulberry Elementary School in Muscatine, as the fourth quarter recipients of their Classroom of the Quarter grant.

The grant will go toward creating a Social Skills Library that will provide literature to teach life/social skills, lessons and activities designed to correspond with social issues that affect students within the school. Teachers will have access to this library as well as the opportunity to request classroom lessons that may be needed as situations arise specific to their groups. Some of the topics that will be covered in these classroom lessons include respect, responsibility, conflict resolution, friendships, empathy, sympathy, leadership, anger management and listening. These lessons and activities will improve the learning environment for all students by providing opportunities for specific discussion and reflection about things that affect their own personal learning environments.

Classroom of the Quarter was created to assist Muscatine Community School District teachers with the resources needed to shape the classroom environment to enhance learning for every child. Every quarter, the Bandag Plant awards $500 to a teacher or a team of teachers to enrich the environment for Muscatine students.