Jul 6, 2018 nashville, tenn.
Firestone Building Products gives closer look at roofing solutions at 2018 AIA Conference on Architecture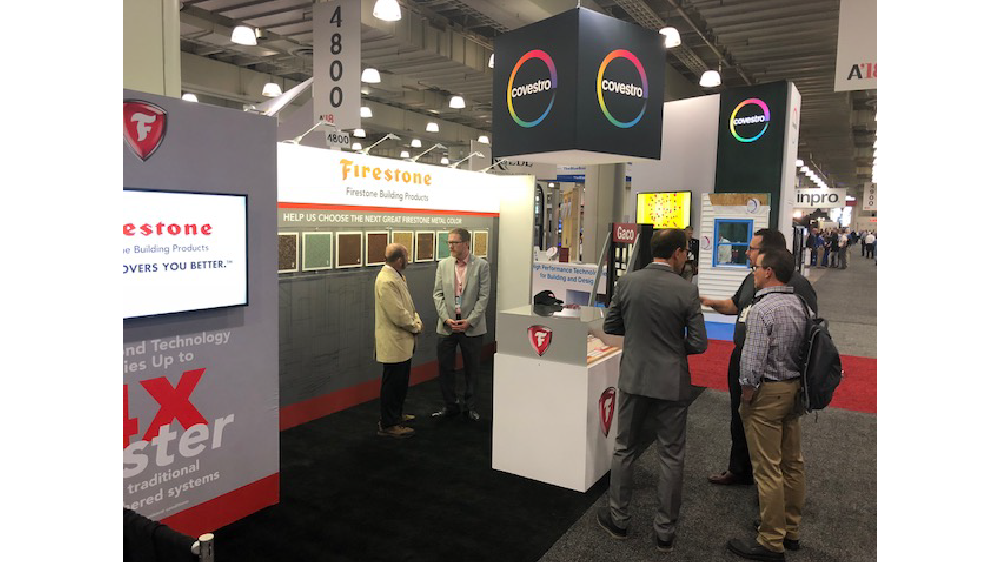 ​​​​From June 21-23, Firestone Building Products (FSBP) employees showcased the company's commercial product portfolio to attendees at the 2018 AIA Conference on Architecture (AIA) in New York City. The three-day conference offered architects, designers and firms a look at the latest trends in architecture and design.
While at the conference, employees were able to interact with customers and build upon existing relationships, as well as make new ones. Employees learned more about customers by offering them the chance to play a role in selecting new color offerings for metal roof systems by voting on their preference among 10 options in the FSBP booth.
"Firestone Building Products is committed to delivering reliable, innovative and sustainable products to the Boss," said David Martiny, Director of Product Management, FSBP. "AIA provided us with a strong platform to connect with architecturally-focused professionals and discuss how the FSBP portfolio of long-term solutions can work hard for them and take their projects to new heights."
FSBP showcased some of the company's high-performance solutions including:
Secure Bond™ Technology is the next generation of fully-adhered roofing system applications from FSBP. It is designed to enable faster installations with better adhesion, even in temperatures as low as 20 degrees Fahrenheit. FSBP offers UltraPlyTM TPO SA and RubberGardTM EPDM SA with Secure Bond Technology in its portfolio of solutions.
Gaco Coatings enable the Boss to extend a roof's life when full roof tear-offs and rebuilds are not necessary. These new, cost-effective products also allow for easier and less labor-intensive installations.
FSBP Metal Roofing Systems and wall panels offer sustainable, dependable and environmentally friendly solutions for commercial buildings. FSBP metal roofs allow for maximum design flexibility through a wide range of finishes and materials.
FSBP SkyScape™ Vegetative Roof Systems provides designers and building owners with a full suite of easy-to-install design solutions. The Skyscape vegetative roof system boasts engineered storm water control devices and enhancement layers, field-tested and laboratory-approved growing medium blends, and plant-proven performance.