Nov 21, 2018 nashville, tenn.
Employees honored during annual Veterans Day celebrations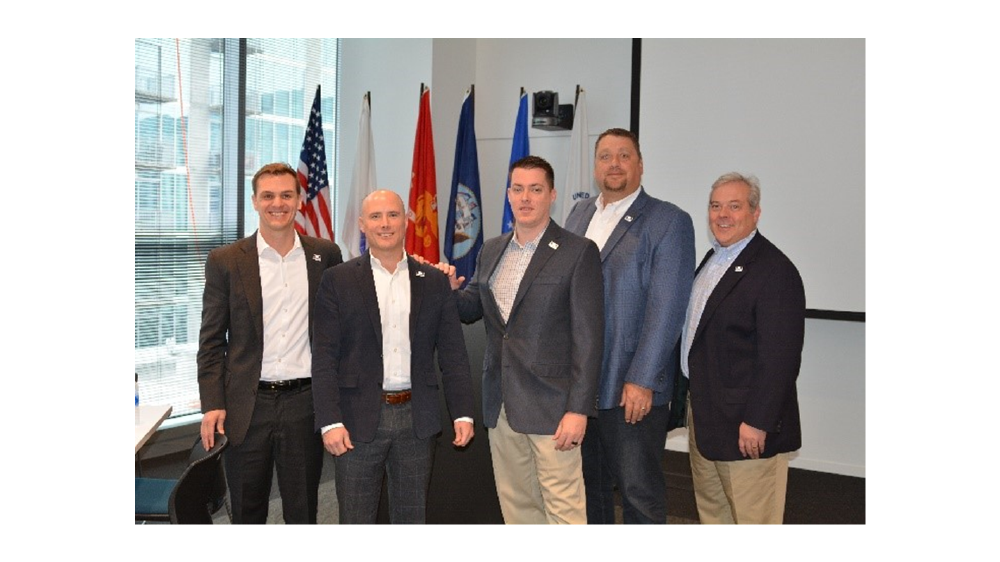 Each year for the Veterans Day holiday, Bridgestone locations across the country take time out of their day to honor employees who served in the United States Armed Forces. This year was no different, with ceremonies small and large, and leaders taking time to show their support at the various events.
Bridgestone is proud of its commitment to hiring those who have served in the United States Armed Forces, and to the hundreds of Veterans working in our offices, plants, and distribution centers across the country, we are proud to support you and your continued dedication to our country.
Bridgestone Americas Veterans Organization (BRAVO) honored active and retired military employees
On November 12, Bridgestone Americas Veterans Organization (BRAVO) held an event and luncheon honoring Bridgestone active military and veterans at Bridgestone Tower. The event featured remarks from Bridgestone employees who are veterans, including Matt Hilerio, Senior Commodity Manager, Procurement, Phillip Dobbs, Chief Marketing Officer, and Joe Venezia, President, Bridgestone Retail Operations (BSRO). The event also featured guest speaker and former chaplain Justin Roberts, who had the lead role in "No Greater Love," an award-winning documentary that shares the experiences of Justin and other soldiers through combat footage and interviews.
As an employee resource group at Bridgestone Americas, BRAVO's mission is to position veterans for success within the company, as well as to inspire veterans to lead and achieve great things.
Veterans Day observed at the Americas Technical Center
Employees gathered in the ATC atrium on November 12 to honor and give thanks to all veterans, especially those employee veterans at the Akron campus. Paul Yost, Systems Operation Specialist, acted as emcee for the event. Paul serves as a U.S. Air Force active reserve. Tim O'Connor, Section Manager, Physical Prep, made brief remarks about his service and a call out for all employees to support the local homeless veterans. Tim serves in the U.S. Army National Guard. Deacon Wayne Wright, chaplain of the Summit County Stand Down and former Marine and Vietnam veteran, was the guest speaker for the program. Donations of clothing and personal hygiene items are being accepted for Summit County Stand Down to support area veterans.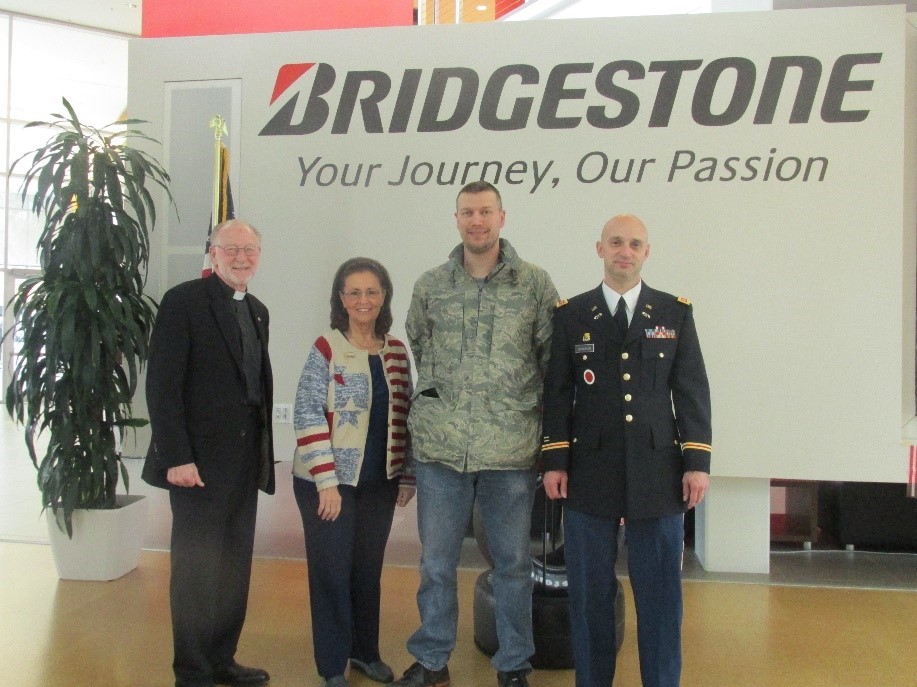 Plants and Distribution Centers honor veteran teammates
Bridgestone manufacturing and distribution plants also honored their veteran teammates. Employees across the country took the time to thank one another for their service.
Aiken ORR: The plant hosted an event for employees and guests. Howie Hanson, an employee and veteran, shared what Veterans Day means to him. Lunch was served and all veterans received a Veterans Day Coin, which the plant provides each year.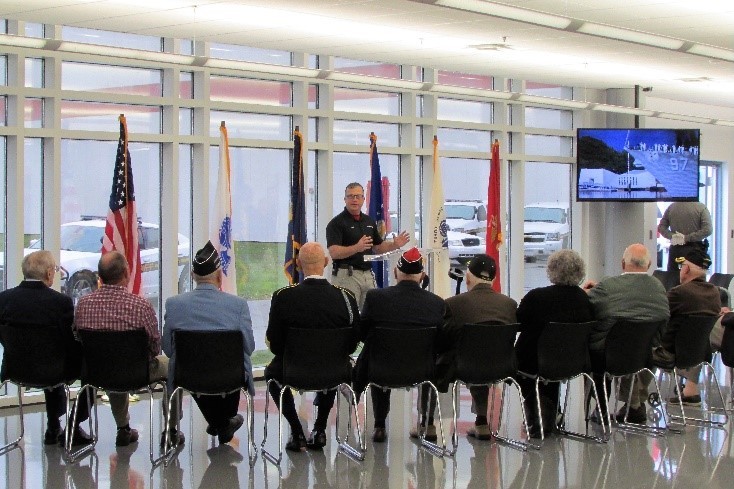 Chicago Distribution Center: The Chicago DC team posted flyers with pictures and accounts of service from its own employees and their family members. Pins showing support for our veterans were also distributed.
Bloomington OTR Plant: The plant leadership team grilled steaks for veterans at Bloomington on all four shifts.
Des Moines Ag Tire Plant: Des Moines' annual salute to its armed services veterans took place this year with a steak dinner prepared by plant leadership and served by employee volunteers. Thanks to their B-Well committee, some new activities were added to the event to make veterans feel even more appreciated. A flag raising ceremony took place, presented by a color guard from the AMVETS, Mackenzie Highlanders Pipes and Drums of Iowa and the National Marine Corps Auxiliary Chaplain. The ceremony was videotaped to play for the veterans' dinners on other shifts. Each veteran was presented with a Bridgestone cap with VETERAN stitched on the back. Finally, just outside the All-Plant meeting room was a Veteran Spotlight board where some of the veterans shared a little about their time of service. Des Moines has 200 employees who are veterans.
Griffin Bandag Plant: The Griffin team celebrated Veterans Day with a presentation of colors by the Griffin High School ROTC, and employee and veteran, Vince Renew, gave brief remarks. Each veteran received an inscribed camouflage hat.
Kings Mountain and Gastonia FSFT Plants: Firestone Fibers & Textiles hosted meals for veterans to recognize all FSFT employees across all shifts.
LaVergne TBR Plant: The LaVergne team celebrated its veterans, who represent 20 percent of the total teammate population, on all four shifts, but held the main ceremony on November 6. Managers served lunch during a program that included two guest speakers.
Lebanon Distribution Center: The Lebanon team celebrated Veterans Day by honoring all veterans with a special lunch and guest speaker, retired U.S. Army Major and Distribution Center Manager Steve Clayton. Major Clayton spent 21 years in the U.S. Army before retiring and starting his second career with Bridgestone. He spoke about the contribution veteran employees made while in the service and their continued contributions at Bridgestone. The DC also invited parents of active duty military to thank them for the sacrifice they make as a parent whose child is protecting the country.
Muscle Shoals FSBP Plant: The plant celebrated with cupcakes and a card for each veteran saying thank you for your service. They also featured employees who are veterans on digital screens throughout the plant.
Warren TBR Plant: The plant hosted meals for all shifts/crews. Each event featured a special guest speaker who was retired military. The Warren County High School JROTC and Choir participated. In addition, Warren received the Above and Beyond Award from ESGR, a U.S. Department of Defense program, which recognizes employers at the local level who have gone above and beyond the legal requirements of the Uniformed Services Employment and Reemployment Rights Act by providing their Guard and Reserve employees additional, non-mandated benefits such as differential or full pay to offset lost wages, extended health benefits and other benefits.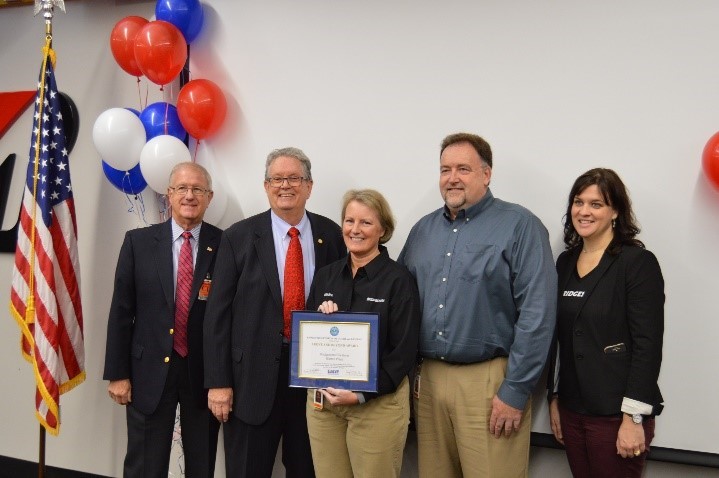 Waukesha FSBP Plant: The plant honored veterans with a lunch and a Christmas ornament with their branch of service insignia.
Wilson Plant: The Wilson plant hosted four breakfasts to celebrate its veterans, who make up about 20 percent of the total teammate population. Mitch Burke, Wilson Plant Manager, and Walt Pittman, Wilson Operations Manager, made brief remarks and thanked veterans for their service.