Jun 26, 2018 nashville, tenn.
BSRO celebrates nine grand openings in second quarter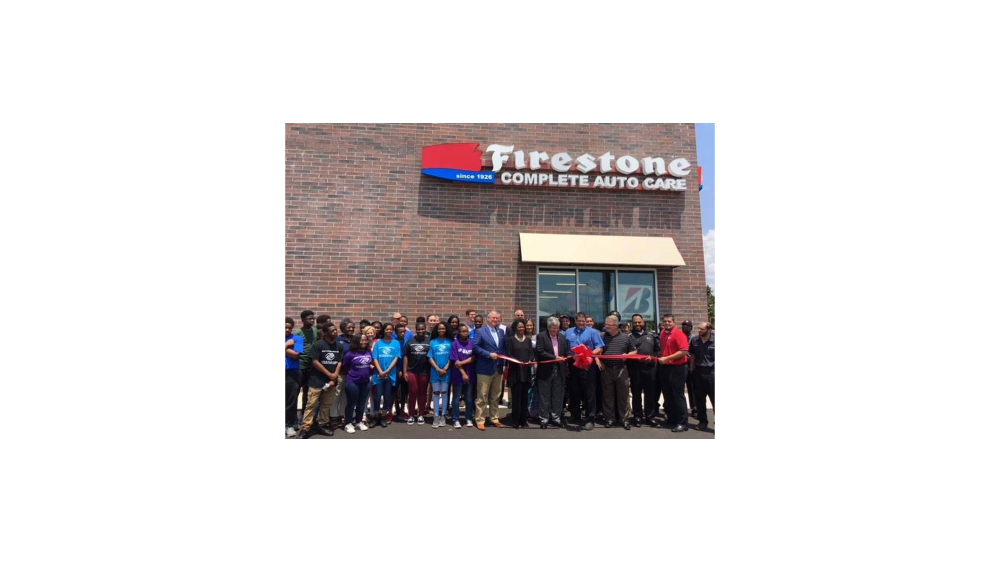 It has been a busy second quarter as Bridgestone Retail Operations (BSRO) celebrates the grand openings of eight Firestone Complete Auto Care (FCAC) stores and an additional Tires Plus store across six states. The most recent grand opening event was for the FCAC in Opelika, Alabama.

Store Manager James Delaney and the store team were joined in the ribbon-cutting ceremony by Alabama State Senator Tom Whatley, City of Opelika Mayor Gary Fuller, Opelika Fire Chief Byron Prather, City Council President Eddie Smith, City Commissioner Johnny Laurence, Opelika Chamber President Pam Powers-Smith, City Council member Patsy Jones, County Sheriff Jay Jones, BSRO Atlanta Region Manager Don Duncan, Region Operations Manager Eddie Vega, Area Manager Brent McKinnon, New Store Locations Manager David Humphress, Region Marketing Manager Dave Roach and several store employees.
James and team presented a check to Wanda Lewis, President of the Boys & Girls Club of Greater Lee County, as part of the Driving Great Futures partnership with Boys & Girls Clubs of America. The donation will help the Greater Lee County Clubs provide a safe, productive environment for kids and teens during critical out-of-school hours. Kids from the local Boys & Girls Club and neighborhood families came to check out the ATV display,​ and enjoy free food and popcorn provided by Advance Auto Parts.
New Store Locations Manager Todd Waldier describes the facility as a beautiful eight-bay store, staffed by 13 dedicated employees. "It's a great addition to the Montgomery area," he said, and customers agree. One customer, R. Burns, has already shared his thoughts on Google reviews: "Firestone has been there for us for years and has serviced all of our vehicles. Most definitely glad to have them in town!"
The new BSRO location in Opelika and others in Wisconsin, Minnesota, North Carolina, Florida, and Texas give customers greater access to industry-leading Bridgestone and Firestone tires. Through Bridgestone Retail Operations, employees also commit to be the most trusted provider of tire and automotive service in every neighborhood. BSRO now operates 2,206 company-owned tire and automotive stores. ​