Aug 29, 2018 nashville, tenn.
Bridgestone hosts Boys and Girls Club kids for once-in-lifetime experiences at NFL training camps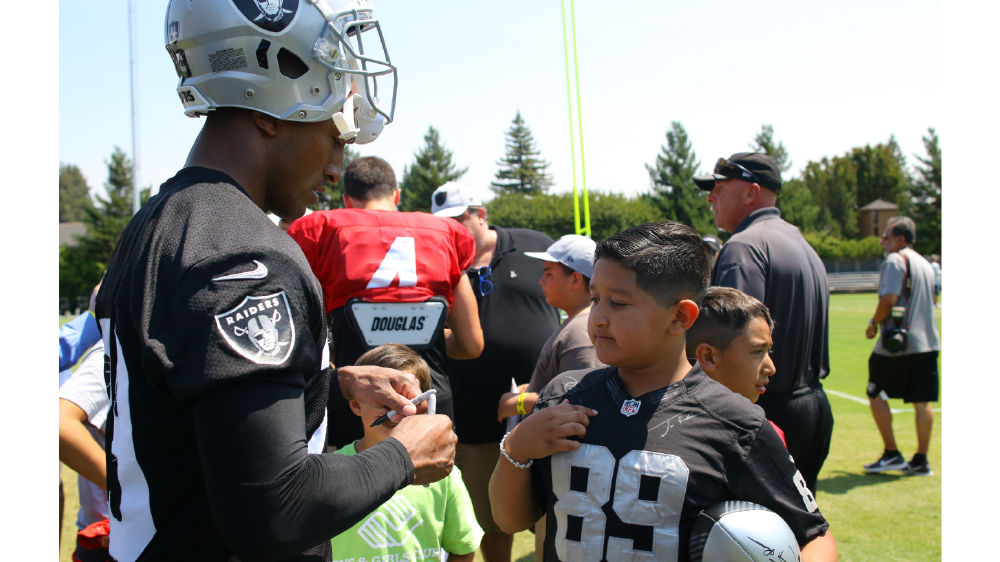 With the new season quickly approaching, Bridgestone is once again teaming up with the NFL to deliver once-in-a-lifetime experiences for kids from the Boys and Girls Club of America (BGCA).
Through its partnership as the Official Tire of the NFL®, Bridgestone recently hosted Boys and Girls Club kids and Bridgestone Retail Operations (BSRO) employees at training camps for the Carolina Panthers, Atlanta Falcons, Miami Dolphins, Oakland Raiders, and Pittsburgh Steelers. This is the third straight year Bridgestone has been able to offer these opportunities to kids in select markets, dating back to the start of the BSRO partnership with BGCA.
At the training camps, Club kids received VIP passes, giving them the opportunity to interact with players, mascots, cheerleaders, and team owners. BSRO teammates accompanied Club kids and staff to engage with them and learn more about the Boys and Girls Club mission first-hand.
"I am relatively new to Bridgestone, so I was thrilled to see Our Way to Serve in action at the Oakland Raiders training camp," said Jason Pineda, Regional HR Business Partner. "The kids learned about leadership and teamwork, all while having fun in the process. Coach Jon Gruden and the players signed autographs and the Lieutenant Governor of California even sat in the bleachers with us to watch the team practice."
These trips are the latest example of how Bridgestone is leveraging its sports partnerships to provide once-in-lifetime experiences for at-risk youth of Boys and Girls Clubs of America (BGCA). Earlier this year, Club kids visited the Indianapolis Motor Speedway with Firestone Racing, while another group in Florida spent the day with Team Bridgestone Olympian Erin Jackson.
Every day, nearly 11 million young people leave school with no place to go or without adult supervision. BGCA provides a safe, productive place for more than 4.3 million kids and teens during critical out-of-school hours. Since 2015, BSRO has partnered with BGCA to drive great futures for these young people. Year to date, BSRO has raised more than $1 million and the 2,200 company-owned store locations continue to raise money every day by asking the Boss to make a small donation with purchase of tire and automotive services.