May 22, 2017
Bridgestone Teammates participate in Junior Achievement STEM Summit in Nashville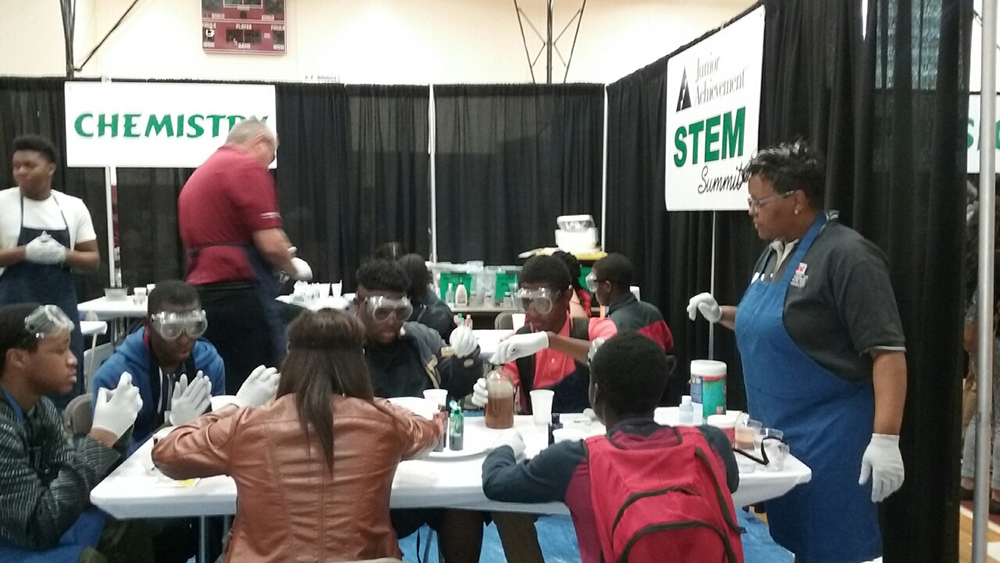 Ten volunteer teammates from Bridgestone Retail Operations (BSRO), including Bill Thompson, Chief Operating Officer, Bridgestone Americas, participated in Junior Achievement's STEM Summit with more than 200 students at Maplewood High School in Nashville.
The STEM (Science, Technology, Engineering and Mathematics) Summit provides students with a glimpse of many different career opportunities that are available after their high school graduation. While most career programs tend to focus on a college track, Junior Achievement demonstrates students have many educational options that lead to a successful career, including technical programs.
At this year's event, several Bridgestone teammates participated in panel discussions where students had the opportunity to ask questions about their current jobs and what it takes to be successful in the STEM field. Teammates also assisted with setting up booths and coordinating participation amongst students at each of the stations.
"We are proud of our continued partnership with Maplewood and excited that we were able to help students learn more about STEM careers," said Chuck Bowles, Region Manager, BSRO. "The students asked great questions and were very engaged."
Maplewood High School, where the event was hosted, is home to the Maplewood High School Automotive Training Center, which Bridgestone Americas and Firestone Complete Auto Care opened in cooperation with Metro Nashville Public Schools in 2015. The Automotive Training Center gives students hands-on experience working with top-of-the-line automotive technology and while helping them learn the business practices necessary to run a retail store.