Oct 4, 2017
Bridgestone Teammates Offer Helping Hands to Those Affected by Hurricane Harvey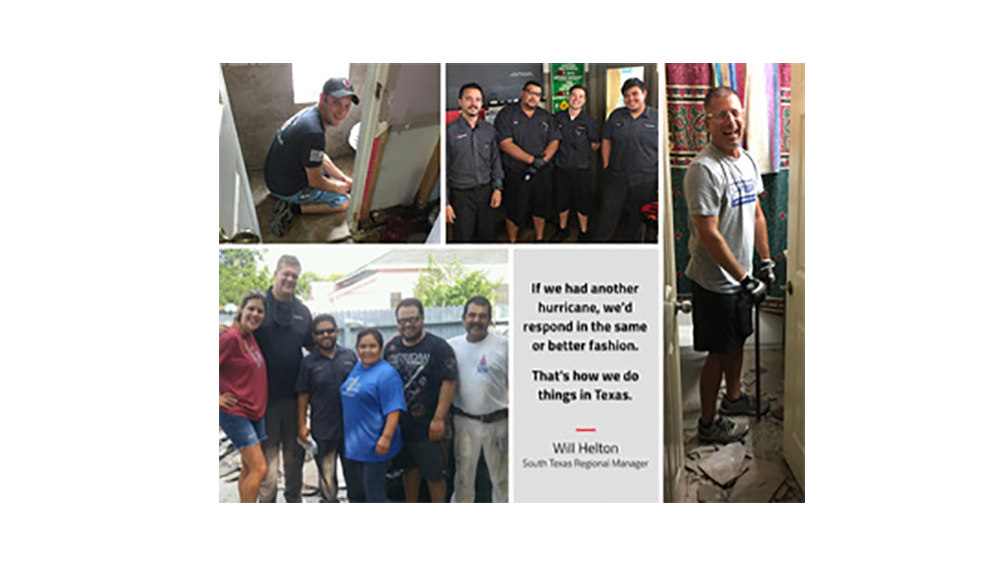 Hurricane Harvey decimated the Greater Houston area in September and left many without homes, vehicles, food, water and more. Now that the storm has passed, the true impact is just being realized. While everyone is aware of the damage and loss experienced by teammates, the uplifting way that teammates in South Texas supported each other is just as significant.
To ensure the safety of all teammates during the hurricane, the South Texas management team at Bridgestone Retail Operations (BSRO) put together a call tree to contact each of their teammates in the path of the storm. Although the hurricane presented communication challenges, they were able to account for every one of their 758 teammates.
More than 100 BSRO teammates' homes were damaged with effects ranging from minor roof leaks to seven feet of water inside their home. Additionally, more than 50 teammates' vehicles were flooded. Christian Castaneda, Region Education Partner, BSRO, led the way assessing the damage or loss experienced by each teammate, as well as organized groups to go into the homes of their fellow teammates and help clean up the damage and debris caused by the storm. Although many of these volunteers had also experienced property damage of their own, they extended a helping hand to their fellow teammates and Houstonians.
Trey Good, Area Manager, and several store managers in Greater Austin collected donations to help their teammates in Houston with necessities. In one teammate's home, they worked the entire day to repair the flooring, brought a trailer full of box fans to reduce the dampness and donated clothes and supplies for their baby.
"The teammates impacted by the storm ranged from part time teammates to Area Managers. The hurricane was non-discriminatory, which is why it was imperative to depend on each other to recover from the storm," said Will Helton, Region Manager South Texas, BSRO.
Many teammates took in other displaced teammates and their families to provide a temporary place to live while their homes were cleaned or repaired. In one instance, Will and his wife, welcomed two brothers who work in two different Firestone Complete Auto Care stores in Houston. The Heltons also welcomed the teammates' parents and 3-week-old baby.
Once the Houston stores resumed operations, the BSRO leadership team communicated to store managers to do anything necessary to also take care of customers in need. The store managers felt empowered to determine the best way to give back to their community. Store teammates performed free flat tire repairs, provided priority service to first responder vehicles and deeply discounted services for customers who experienced significant loss.
"If we had another hurricane we'd respond in the same or better fashion," said Will. "The storm was devastating, but to see our teammates come together to lift each other up and take care of their customers was truly inspiring. This was the community-oriented culture our teams created through the storm."